Experience the Perfect Blend of Style and Functionality with the Minimalist Backpack – "Life Happens. Wine Helps."
Are you tired of lugging around a heavy, disorganized bag that seems to contain your entire life? Look no further, because the Minimalist Backpack – "Life Happens. Wine Helps." is here to revolutionize your carrying experience. This sleek and versatile backpack is designed to lighten your load while providing ample space for all your essentials. Crafted with the modern wine enthusiast in mind, this backpack is as practical as it is stylish. Let's delve into the remarkable features of this extraordinary backpack that will make you the envy of wine lovers everywhere.
Embrace the Lightweight Marvel
Designed for Convenience, Crafted for Comfort
Carrying the weight of the world on your shoulders is a thing of the past with the Minimalist Backpack. Constructed using premium 100% polyester, this backpack boasts exceptional durability while remaining feather-light. Weighing only 9.91 ounces per square yard (336 grams per square meter), it effortlessly accompanies you on your daily adventures without adding unnecessary strain.
Dimensions and Capacity: Your Perfect Travel Companion
Spacious Yet Compact: Room for Your Essentials
The Minimalist Backpack strikes the perfect balance between spaciousness and compactness. Standing at a height of 16.1 inches (41cm), a width of 12.2 inches (31cm), and a depth of 5.5 inches (14cm), it provides ample room for your belongings without compromising on portability. With a generous capacity of 5.3 gallons (20 liters), you can effortlessly carry your essentials wherever life takes you.
Unparalleled Functionality: Stay Organized, Stay Secure
Thoughtfully Designed with Your Needs in Mind
This backpack is a master of organization, ensuring that everything you need is just a zip away. Its large inside pocket features a separate compartment specifically tailored to accommodate a 15-inch laptop, keeping your tech safe and secure during your travels. For added peace of mind, the Minimalist Backpack also boasts a hidden back pocket with a zipper, ideal for safeguarding your most valuable possessions.
Weather-Resistant and Ready for Anything
A Backpack That Can Brave the Elements
Whether you're caught in an unexpected rain shower or accidentally spill a glass of your favorite wine, the Minimalist Backpack has got you covered. Crafted from water-resistant material, it ensures that your belongings stay dry and protected, come rain or shine. Embrace your spontaneous nature without worrying about the weather, knowing that your essentials are safeguarded inside this trusty backpack.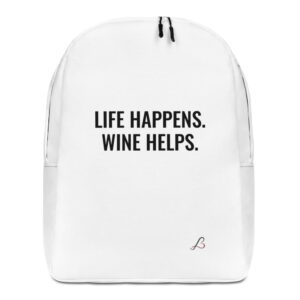 Unmatched Comfort: Your Back Will Thank You
A Perfect Blend of Style and Comfort
While functionality is key, comfort is paramount. The Minimalist Backpack features a silky lining, piped inside hems, and a soft mesh back to ensure maximum comfort during extended wear. Its ergonomic bag straps, padded with polyester and equipped with plastic strap regulators, further enhance your carrying experience. Whether you're exploring the city or embarking on a wine-filled adventure, this backpack guarantees comfort without sacrificing style.
Elevate Your Carrying Experience with the Minimalist Backpack – "Life Happens. Wine Helps."
The Minimalist Backpack – "Life Happens. Wine Helps." is more than just a bag; it's a statement. With its sleek design, durable construction, and thoughtful features, this backpack offers the perfect blend of style and functionality. Say goodbye to the days of burdening yourself with heavy, disorganized bags and embrace a new era of convenience and elegance. Wherever your journey takes you, let this backpack be your loyal companion, effortlessly carrying your essentials while reminding you that sometimes, in the midst of life's challenges, a little wine can make all the difference. Embrace the minimalist lifestyle and let your love for wine shine through with the Minimalist Backpack – your ultimate travel partner.