A Footwear Companion for Every Wine Lover: Flip-Flops – "Life Happens. Wine Helps."
Comfortable and Stylish: Flip-Flops That Embrace Your Wine Moments
Life is an unpredictable journey, filled with twists and turns, and sometimes all we need is a gentle reminder that a glass of wine can make everything better. Introducing our vibrant and charming Flip-Flops – "Life Happens. Wine Helps." Designed with wine enthusiasts in mind, these delightful slippers are here to accompany you on your summer adventures, making sure you stay comfortable and in touch with your wine-loving spirit.
Crafted for Your Every Step: Embrace the Summer Vibes
When the sun graces the sky and the warm breeze beckons you outdoors, these Flip-Flops are the perfect choice to add a touch of color and personality to your summer ensemble. The carefully crafted rubber sole provides reliable traction, ensuring that you can confidently tread any path, whether you're strolling along the sandy beach or exploring lively city streets. Say goodbye to uncomfortable footwear and embrace the freedom and ease that these Flip-Flops bring.
Unmatched Comfort: The Perfect Fusion of Style and Softness
We understand that comfort is paramount, especially during those carefree summer days. That's why our Flip-Flops feature a customizable 100% polyester fabric lining that creates a cozy haven for your feet. Soft to the touch and gentle on your skin, it guarantees a delightful walking experience. Slip them on, and you'll feel like you're walking on clouds, allowing you to fully immerse yourself in the beauty of the season.
Stylish Details: A Testament to Your Love for Wine
What sets these Flip-Flops apart are the sleek and elegant black Y-shaped rubber straps. Not only do they offer a secure fit, but they also add a touch of sophistication to your overall look. And of course, let's not forget the catchy slogan – "Life Happens. Wine Helps." It's a lighthearted reminder that wine has a special place in our lives, helping us unwind, celebrate, and savor moments both big and small. With these Flip-Flops, you can proudly display your passion for wine with every step.
Embrace the Versatility: Toe Post Style for Easygoing Days
Simplicity is the key to enjoying summer to the fullest. The toe post style of our Flip-Flops not only exudes laid-back charm but also ensures that you can effortlessly slip them on and off whenever you please. No need to worry about complicated straps or time-consuming adjustments. These Flip-Flops were designed with your ease in mind, allowing you to focus on the beauty of the moment rather than fussing with your footwear.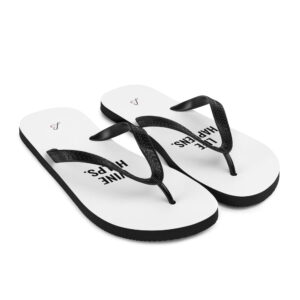 Step into Summer with Flair: Flip-Flops – A Toast to Life's Pleasures
In a world full of hustle and bustle, it's important to take a step back and savor the simple pleasures that life offers. Our Flip-Flops – "Life Happens. Wine Helps." encapsulate the essence of carefree summer days and the joy of indulging in a glass of wine. From their comfortable construction to their stylish details, these Flip-Flops are a delightful companion that adds a touch of charm to your summer escapades. So, slip them on, embrace the vibrant colors, and celebrate life's beautiful moments with a glass of wine in hand. Cheers to you, cheers to summer, and cheers to the unwavering power of wine!