"Life Happens. Wine Helps." Unisex Sweatshirt: Embrace Style, Comfort, and Resilience
Step into the colder months with a sense of style and warmth by adorning yourself with the remarkable "Life Happens. Wine Helps." Unisex Sweatshirt. This exceptional garment effortlessly combines fashion and functionality, ensuring you stay cozy while exuding an air of confidence. Crafted with meticulous attention to detail, this pre-shrunk, classic fit sweatshirt offers a soft touch and minimizes pilling. With its unique design and premium materials, this unisex sweatshirt is the perfect addition to your wardrobe. Let's dive into the captivating features that make it an irresistible choice for wine enthusiasts and fashion-forward individuals alike.
Unisex Sweatshirt: A Perfect Blend of Quality and Comfort
A Warm Embrace in Chilly Weather
Wrap yourself in pure comfort with this unisex sweatshirt that transcends seasons. Crafted from a blend of 50% cotton and 50% polyester, it provides optimal warmth without compromising on breathability. As life brings its twists and turns, this sweatshirt will keep you snug, allowing you to focus on what truly matters while looking effortlessly stylish.
Engineered for Durability
With its exceptional construction, this sweatshirt is built to withstand the test of time. The air-jet spun yarn enhances its softness, while the pre-shrunk feature ensures a perfect fit even after multiple washes. The double-needle stitching reinforces the collar, shoulders, armholes, cuffs, and hem, guaranteeing long-lasting durability. No matter how hectic life gets, your sweatshirt will retain its shape and quality, offering a dependable companion throughout your adventures.
Style that Speaks Volumes: Design and Aesthetic Appeal
A Timeless Classic Fit
The "Life Happens. Wine Helps." Unisex Sweatshirt boasts a classic fit, accentuating your silhouette with its flattering shape. The absence of a center crease further enhances the overall appeal, creating a smooth and streamlined appearance. Whether you're out and about or enjoying a cozy evening at home, this sweatshirt effortlessly blends comfort and style, ensuring you look your best wherever life takes you.
Sporting Elegance: Athletic Rib Knit Collar
Designed to elevate your fashion game, the 1×1 athletic rib knit collar adds a touch of sophistication to the sweatshirt's design. With a hint of spandex, it offers a snug fit while retaining its shape. This tasteful detail enhances the overall aesthetic, making a statement that exudes confidence and effortless elegance.
Aesthetics without Compromise: Reduced Pilling and Soft Feel
Say goodbye to the annoyance of pilling and embrace a sweatshirt that maintains its pristine condition. Thanks to the air-jet spun yarn, this garment achieves a remarkably soft feel while minimizing pilling. You can revel in its luxurious texture while feeling confident that it will retain its allure even after repeated wear. Enjoy the utmost comfort without compromising on style or visual appeal.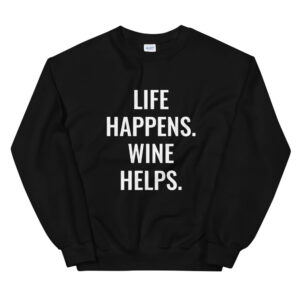 Versatility and Personal Expression: Your Perfect Wardrobe Essential
Unisex Design: A Sweatshirt for All
The "Life Happens. Wine Helps." Unisex Sweatshirt transcends gender norms and invites everyone to embrace its charm. Regardless of your gender identity, this versatile garment is tailored to suit your style preferences, making it a wonderful addition to any wardrobe. Embrace your individuality and express your love for wine with this inclusive sweatshirt that celebrates unity and diversity.
Showcasing Your Love for Wine
This sweatshirt is more than just a garment—it's a statement piece for wine enthusiasts. By wearing the "Life Happens. Wine Helps." Sweatshirt, you express your appreciation for the magic that happens when life's challenges intersect with the comforting embrace of a well-deserved glass of wine. It's a conversation starter, a testament to your passion, and a way to connect with like-minded individuals who understand the beauty of life's moments accompanied by a glass of wine.
The Perfect Blend: Fashion, Comfort, and Wine Appreciation
As we navigate the unpredictable journey of life, it's important to embrace those little joys that make each moment special. The "Life Happens. Wine Helps." Unisex Sweatshirt is a testament to the power of self-expression and finding comfort in the things we love. Combining unrivaled comfort, durability, and an eye-catching design, this sweatshirt allows you to indulge in your love for wine while looking effortlessly stylish. Whether you're unwinding after a long day or embarking on new adventures, this sweatshirt will be your loyal companion, reminding you that life happens, but wine helps. Embrace the warmth, style, and resilience this unisex sweatshirt offers, and celebrate life's beautiful moments with every wear.