The Perfect Companion for Life's Adventures: Fanny Pack – "Life Happens. Wine Helps."
Are you always on the go, juggling multiple tasks and responsibilities? If so, we have the perfect accessory to keep up with your dynamic lifestyle. Introducing our stylish and versatile Fanny Pack – "Life Happens. Wine Helps." This trendy waist bag is not only a fashion statement but also a practical solution for those who value convenience and freedom of movement. Crafted with attention to detail, this fanny pack is designed to make your life easier and more enjoyable, whether you're heading to a festival, preparing for a vacation, or simply embracing the joy of hands-free living.
Product Description
Fashionable and Functional Design
Our Fanny Pack – "Life Happens. Wine Helps." is more than just a typical waist bag. It's a fashion-forward statement that allows you to express your personality while keeping your essentials within easy reach. Made from 100% polyester with a fabric weight of 9.91 oz/yd² (336 g/m²), this fanny pack strikes the perfect balance between durability and lightweight comfort.
Spacious and Thoughtful Layout
With dimensions of H 6.5" (16cm) x W 13" (33cm) x D 2¾" (7cm), our fanny pack provides ample space to accommodate your must-have items. The main compartment features a top zipper with two sliders, ensuring easy access and secure closure. Inside, you'll find a small yet customizable inner pocket without a zipper, allowing you to organize your belongings according to your preferences. Whether it's your phone, wallet, keys, or other essentials, our fanny pack has got you covered.
Water-Resistant and Reliable
Life is unpredictable, and so is the weather. That's why our Fanny Pack – "Life Happens. Wine Helps." is crafted from water-resistant material, providing an extra layer of protection for your belongings. Whether you're caught in a sudden rain shower or splashed by a poolside mishap, you can rest assured that your valuables will remain safe and dry inside.
Comfortable and Adjustable
We understand that comfort is crucial, especially when you're on the move. Our fanny pack is designed with your comfort in mind. It features 1¼" wide adjustable straps with plastic strap regulators, allowing you to find the perfect fit for your body shape and size. Say goodbye to uncomfortable and restrictive bags and hello to a fanny pack that adapts to you.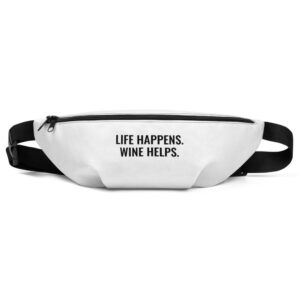 Stylish Details and Premium Finishes
Not only is our Fanny Pack – "Life Happens. Wine Helps." functional, but it also exudes style and sophistication. The silky lining and piped inside hems add a touch of luxury, while the blank product components sourced from China ensure high-quality craftsmanship. With attention to detail and premium finishes, this fanny pack is the epitome of fashion-forward practicality.
Embrace Convenience and Style with Fanny Pack – "Life Happens. Wine Helps."
In a fast-paced world where life keeps us constantly on our toes, it's essential to find products that simplify our lives without compromising on style. Our Fanny Pack – "Life Happens. Wine Helps." is the perfect embodiment of convenience and fashion. With its spacious design, water-resistant material, and adjustable straps, it's a reliable companion for all your adventures. So, why settle for less when you can have the best of both worlds? Embrace the freedom and versatility of our Fanny Pack – "Life Happens. Wine Helps." and make a statement that reflects your vibrant spirit and love for life. Order yours today and experience the perfect blend of functionality and fashion.