"Life Happens. Wine Helps." Bubble-free Stickers
An Introduction to the Perfect Stickers for Wine Lovers
Imagine this: you've had a long day, and all you want is to unwind with a glass of your favorite wine. As you pour yourself a generous serving, you glance over at your wine rack, adorned with an assortment of captivating labels. But wait! Something's missing. Your wine collection deserves a touch of personality and charm, just like the delightful beverages it houses. That's where the "Life Happens. Wine Helps." bubble-free stickers come into play. These stickers are more than just decorative accessories; they're a reflection of the spirit and joy that wine brings into our lives.
The Unparalleled Quality of Bubble-free Stickers
Durable Vinyl for Long-lasting Enjoyment
Crafted with the utmost attention to detail, our bubble-free stickers are printed on durable, high-opacity adhesive vinyl. This premium material not only ensures their longevity but also makes them ideal for a variety of purposes. Whether you want to adorn your favorite wine bottles, personalize your wine glass, or even cover up existing stickers or paint, these stickers are up to the task. Their exceptional quality guarantees that they will stand the test of time, preserving their vibrancy and appeal.
Say Goodbye to Bubbles with Easy Application
We've all experienced the frustration of applying stickers only to be greeted by unsightly bubbles that ruin the entire aesthetic. Well, fret no more! Our bubble-free stickers boast a high-opacity film that's impossible to see through, allowing for a seamless application every time. Thanks to their innovative design, you can bid farewell to those pesky bubbles that often mar the beauty of other stickers. Applying these charming decals is a breeze, ensuring that your wine accessories will look flawless and captivating.
Versatile and Reliable for Indoor Use
Designed with versatility in mind, our bubble-free stickers are perfect for indoor use. Whether you choose to embellish your wine bottles, wine glasses, or any other indoor wine-related item, rest assured that these stickers will withstand the test of time. With a density of 95µ, they strike the ideal balance between durability and elegance. Your wine collection will become a visual masterpiece, capturing the essence of your passion for the grape in every detail.
A Clean Canvas for Your Wine Oasis
Before embarking on your sticker application journey, it's crucial to remember a vital step: clean the surface! Ensure that the intended surface is free from dust, debris, or any other impurities that may hinder the adhesive bond. By meticulously preparing the canvas, you lay the foundation for a flawless sticker application. So grab a cloth, wipe away the day's grime, and get ready to adorn your wine sanctuary with the "Life Happens. Wine Helps." bubble-free stickers.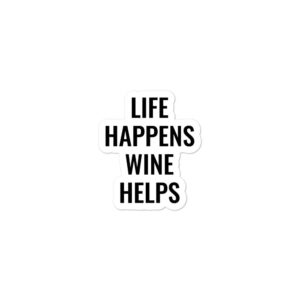 "Life Happens. Wine Helps." Bubble-free Stickers—Elevating Your Wine Experience
Unleash Your Creativity and Enhance Your Wine Experience
As wine enthusiasts, we understand that wine is not just a beverage—it's a catalyst for unforgettable moments, cherished conversations, and delightful indulgence. The "Life Happens. Wine Helps." bubble-free stickers embody this sentiment, offering you the opportunity to personalize and beautify your wine collection like never before. With their durable vinyl, seamless application, and versatility for indoor use, these stickers are a must-have for any wine lover looking to elevate their wine experience.
So, whether you're hosting a wine tasting soirée, celebrating a special occasion, or simply enjoying a quiet evening at home, let these stickers be a testament to your passion for wine. Unleash your creativity, tell your own wine story, and transform your wine oasis into a realm of enchantment with the "Life Happens. Wine Helps." bubble-free stickers. Cheers to the joy and beauty that wine brings into our lives!