A Stylish and Eco-Friendly Companion for Every Occasion
The "Life Happens. Wine Helps." Eco Tote Bag is here to revolutionize your shopping experience while making a positive impact on the environment. Say goodbye to flimsy plastic bags and embrace this organic cotton tote that not only carries your goodies but also sends a powerful message. With its spacious design and sustainable materials, this tote bag is the perfect companion for grocery runs, library visits, or any adventure in between. Let's delve into the details of this remarkable tote bag and discover why it's a must-have for eco-conscious individuals.
The Perfect Blend of Functionality and Sustainability
High-Quality Organic Cotton for a Greener Planet
Crafted from 100% certified organic cotton 3/1 twill, this tote bag exemplifies sustainability at its finest. The organic cotton used in its production is cultivated without the use of harmful pesticides or synthetic fertilizers, making it a healthier choice for both you and the environment. By opting for this eco tote, you contribute to the preservation of natural resources and support sustainable farming practices.
A Durable and Spacious Companion
With a fabric weight of 8 oz/yd² (272 g/m²), this tote bag strikes the perfect balance between sturdiness and comfort. It can effortlessly carry up to 30 pounds (13.6 kg) of weight, ensuring that you can tote around your groceries, books, or any essentials you need. The spacious dimensions of 16″ x 14 ½" x 5″ provide ample room for your belongings, making it an ideal choice for a variety of activities.
Comfortable and Versatile Design
The "Life Happens. Wine Helps." Eco Tote Bag features 1″ wide dual straps that are 24 1/2″ in length. These comfortable straps enable you to carry the bag effortlessly on your shoulder, providing a hassle-free experience while you're on the go. Whether you're navigating crowded streets, exploring local markets, or attending a casual outing, this tote bag's design ensures your comfort and convenience.
Unveiling the Benefits
Embrace the Open Main Compartment
The open main compartment of this tote bag allows for quick and easy access to your belongings. No more fumbling around or struggling to find what you need. Its spacious interior provides a blank canvas for you to organize your items just the way you like it. Whether it's your favorite wine bottle, fresh produce, or a stack of novels, the open main compartment simplifies your life, making it an essential tool for your daily adventures.
Making a Bold Statement
The "Life Happens. Wine Helps." slogan emblazoned on this tote bag adds a touch of personality and humor to your style. It conveys a lighthearted yet meaningful message, capturing the essence of how wine can help us unwind and savor life's little moments. By carrying this tote bag, you showcase your appreciation for the simple pleasures and a clever sense of humor that sparks conversations and brings smiles to faces.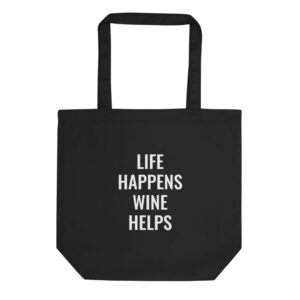 A Sustainable Global Effort
While the blank product components are sourced from China, the focus on sustainability and eco-consciousness remains steadfast. By opting for this eco tote bag, you contribute to reducing single-use plastic waste that pollutes our environment and endangers wildlife. Additionally, the organic cotton used in its construction supports fair trade and promotes the livelihoods of farmers who follow sustainable practices. Join the global movement towards a greener future by embracing this tote bag as a symbol of your commitment to sustainability.
Join the Revolution and Carry Your World with Style
In a world striving for sustainability, the "Life Happens. Wine Helps." Eco Tote Bag emerges as a beacon of hope. Its eco-friendly materials, spacious design, and engaging slogan make it a true standout in the realm of tote bags. Say goodbye to disposable plastic bags and embrace a more responsible alternative that adds a touch of personality to your everyday adventures. By choosing this tote bag, you contribute to a cleaner and greener planet while making a fashion statement that reflects your values. Embrace the power of change and let this tote bag be your trusted companion on the journey towards a more sustainable future.