Seña - An Inspiring Journey
"Wine can be a better teacher than ink, and banter is often better than books", the great Stephen Fry once wrote.
While I generally very much agree with that statement, my recent experience with Seña Winery — in the form of a socially-distanced guided retrospective tasting of five past vintages and the launch of the much-lauded 2018 vintage in HK, hosted on a bright morning last November by Seña Winery's HK & China Area Manager, Clarence Ng, at James Suckling Wine Central — was admittedly made extra memorable by a book that came as part of the event's gift kit. Titled "An Inspiring Journey", it is an immaculate coffee table book that I find myself reading over & over again. The 2017 publication beautifully details the young Aconcagua Valley winery's unique microclimate, its colourful and storied history, as well as its focus to attaining biodynamic status. I like that this 200-odd pager is also filled with exquisite photographs of the winery along with its mountainous terrain, its founders Eduado Chadwick & Robert Mondavi and everything in between.
While the wino in me was trying to enjoy every bit of the 2009's incredibly well-defined aromas of graphite & crushed dark berries, and its medium body & refined tannins, the keen marketer side of me was equally enthralled by Seña's meteoric rise in global recognition as a fine wine. This was all thanks to the stunning performance & results in the modern recreations of The Berlin Tasting, which have been held the world over on 22 occasions since 2004, as detailed in chapter IX. Surely, the collective input & consensus of around 1400 of the wine industry's elites & most highly-regarded thought leaders speak volumes. This bold move (with the entire country's national pride on the line, no less!) was nothing short of awe-inspiring & legendary.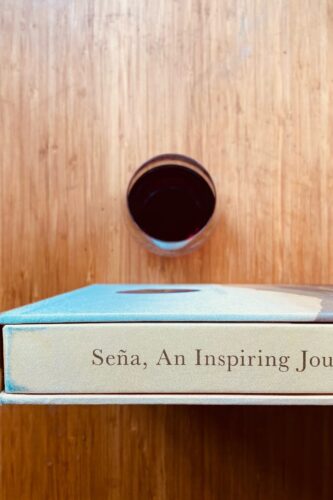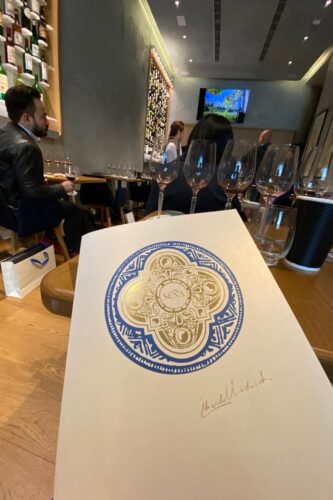 Chile on the whole, as a result, has benefited hugely from this too: it is now regarded much more seriously as a producer of quality wines. This especially struck home for me as an important case study/ lesson in (wine) marketing & PR— just imagine the sort of immensely tricky risk-cost-benefit analysis (on top of the intuition & gut-feeling!) involved in such a high-profile, no-turning-back, kind of project! Seña is living proof that punching above one's weight to make a favourable impression is one (risky) route to success that's absolutely worth considering.
Of course, Seña Winery's success is nothing without their faithfulness and dedication to its unique terroirs. No one knows this better than Seña's chief winemaker, Francisco Baettig, who was profiled in chapter VII. He is on a never-ending quest to help the winery search & fine-tune its purest expression of terroir. Because Seña hillside vineyards are located just 40km from the Pacific Ocean, the terroir has a fairly distinct maritime influence. As we progressed through the vintages that were poured ('09, '11, '15, '16, '17), I was increasingly aware of this mountainous-yet-maritime influence and couldn't help but be intrigued by some of the nuances among them. I luckily found loads of insightful & exhaustive vintage-by-vintage information on each growing season; along with harvest conditions and weather reports in chapter VIII, all of which helpfully furnish readers important context. I certainly found the information very useful during my tasting session.
Then, it was finally time for the unveiling of the Seña 2018 Vintage, which has swiftly been making headlines as a critic's darling with its very high/ perfect scores. According to Baettig, 2018 "one of the greatest vintages ever crafted in the 25 years of Seña's history". This was largely attributed to a moist winter, followed a dry spring. Coupled with perfectly moderate temperatures and rainfall throughout the year, the estate was lucky to be rewarded with a higher than average yield. The lower median temperatures also resulted in a wine with balanced acidity, beautiful ripeness with intense aromas. I felt that it was very complex on the nose, especially with rich floral notes and subtle hints of juicy plums. On the palate, its medium body is agreeable with the pronounced notes of fresh berries, cinnamon & old cigar boxes. Brimming with tension, purity and elegance, it is easy to see why this wine is captivating— especially after a decade or two of cellaring.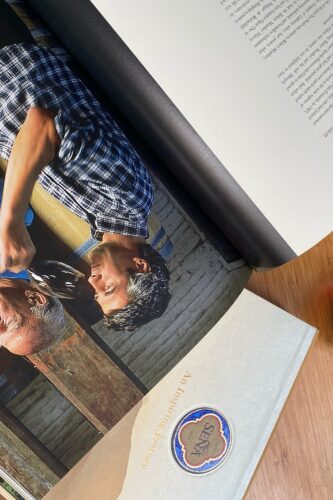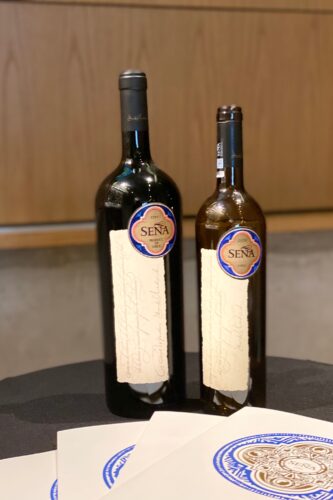 I am grateful to have embarked on "An Inspiring Journey" in the most interactive fashion with Seña Winery. It was eye-opening to learn about the spirit and core philosophy of a winery that's dead-focus on flying the Chilean flag on the global stage with pride, while simply striving to achieve the very best in winemaking. Be it the accolades & awards, the hosting of retrospective tasting event, the book explaining the founder's philosophies, or the actual bottles of their age-worthy wines, it's clear to see that every single aspect of Seña Winery is about having laser-like focus to achieve sheer excellence. It's hence, rightfully, Chile's most iconic winery. It's been an education & drinking pleasure in equal measures.