Wine benefits are well-known, and among the various types of wine, red wine has been extensively studied for its potential health benefits. Read and explore the world of wine benefits and discover how red wine can contribute to a healthy lifestyle.
With its rich blend of antioxidants, red wine offers numerous advantages, including the potential to promote heart health, reduce inflammation, and support brain function. In addition, red wine has anti-aging properties that make it a popular choice among those seeking to maintain a youthful appearance. In this article, readers can dive deeper into the benefits of red wine and learn how to enjoy this delicious beverage to the fullest. Whether someone is a wine enthusiast or simply enjoys a glass of red wine with dinner, they will find valuable insights into wine benefits from this article.
Science Says A Glass Of Red Wine Can Replace 1 Hour Exercising
By Victor Marchione, M.D.
Are you a red wine drinker? What if I tell you sipping in a glass of wine can equate to an hour of exercise? Yup, it's tried and tested. A new scientific study has just confirmed this wonderful news. So next time you hold a glass of Merlot, you can brag about one hour of hard workout. Rejoice, drinkers!
What the study found out
"I think resveratrol could help patient populations who want to exercise but are physically incapable. Resveratrol could mimic exercise for the more improve the benefits of the modest amount of exercise that they can do."
I'm not saying this, but the study's principal investigator Jason Dyck who got it published in the Journal of Physiology in May.
In a statement to ScienceDaily, Dyck pointed out that resveratrol is your magic "natural compound" which lavishes you with the same benefits as you would earn from working out in the gym.
And where do you find it? Fruits, nuts and of course, red wine!
Did I forget to mention Dyck also researched resveratrol can "enhance exercise training and performance"?
There are limits, of course
But, all is not gold as they say. If you're a lady who likes to flaunt holding a glass of white wine in the club or simply a Chardonnay-lover,you have a bad (sad) news. The "one hour workout" formula only works with red wine, not non red wines. And don't be mistaken and think you've managed 4 to 6 hours of workout sessions if you happen to gulp down a bottle of red wine.
And what can replace the golden lifetime benefits of exercise? Exercise is just as important as you age. Period! But hey, don't be discouraged; look at the bigger picture here. A glass of red wine is not a bad deal after all!
The health benefits of red wine
But just how beneficial is the red alcoholic beverage to your body? As we all know red wine is a healthier choice youc an make when boozing.
Let's hear it from a registered dietitian. Leah Kaufman lists red wine as the "most calorie friendly" alcoholic beverage. Sure, you won't mind adding up to a mere 100 calories per 5-ounce glass of red wine after you realize it contains antioxidants, lowers risk of heart disease and stroke, reduces risk of diabetes-related diseases, helps avoid formation of blood clots and lowers bad cholesterol level.
Want more? Wine could also replace your mouthwash because the flavan-3-ols in red wines can control the "bad bacteria" in your mouth.To add to that list of benefits, moderate wine drinking may be beneficial for your eyes too – a recent study mentions.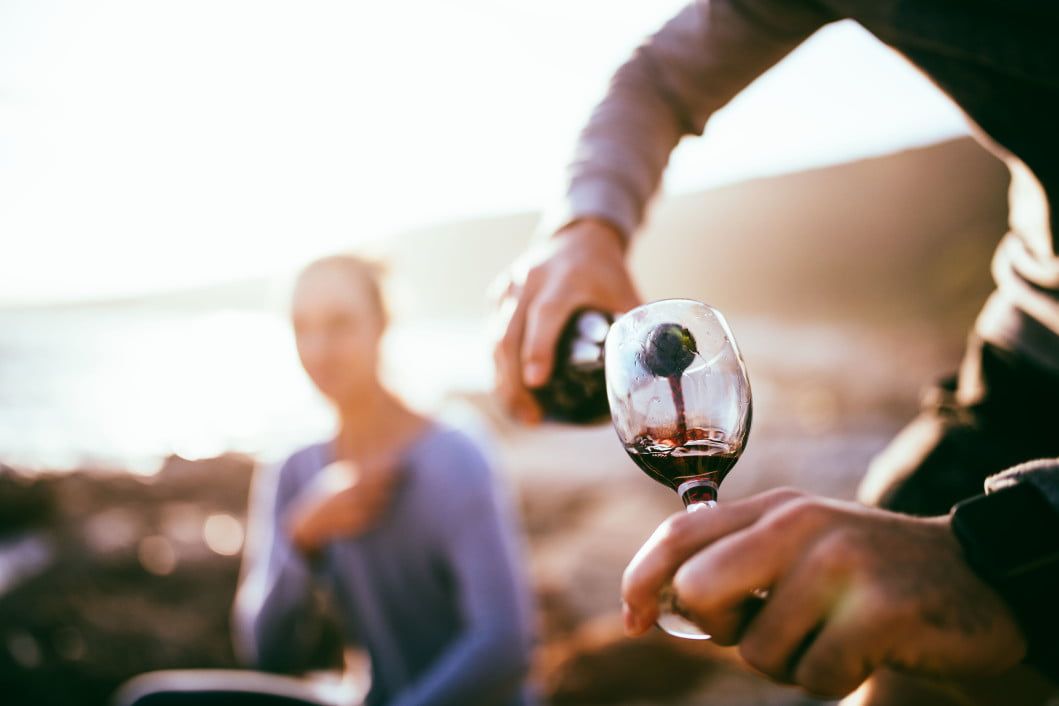 Be aware of the risks, too
Having mentioned all the 'goods' about red wine, you cannot underplay the fact that it is still an alcohol, which isn't the best stuff to pour into your body. What is excessive drinking going to do to your body? Know the risks and you should be a good drinker at the end of the day.
However, you don't want to discard the red vino from your "right eating"regimen just because it stains your teeth blue. M-o-d-e-r-a-t-i-o-n. Did you read that? That's the operative word when it comes to booze.
By the way, when chocolate is paired with wine, particularly red, they can bring you some exceptional benefits towards your health.But again, if you tend to go overboard and booze down bottles after bottles, you are up for the negative side of alcohol, and we all know what too much of sweetness (sugar) can do to our body (open invitation to diabetes and heart diseases if you aren't aware).
Folks, the red grape beverage is certainly a good buy to have a good hour's worth of cardio, provided you keep the 'M' word in mind. Cheers!