The Captivating Grand Reyne: AOC Bordeaux, 2018 Magnum 1.5L (Wooden Case)
Imagine savoring a wine that exudes elegance, finesse, and a symphony of flavors. Introducing the remarkable Grand Reyne, AOC Bordeaux, 2018 Magnum 1.5L (Wooden Case) – a true masterpiece crafted with precision and passion. This extraordinary wine is a medium-bodied delight, boasting a captivating shining plum color that hints at the wonders concealed within.
Let us embark on a journey through its exquisite characteristics and uncover the secrets that make Grand Reyne an unrivaled choice for wine enthusiasts.
The Enchanting Region of Bordeaux, France
A Melting Pot of Terroir and Tradition
Nestled in the heart of Bordeaux, France, this wine hails from a region steeped in winemaking heritage. Bordeaux is renowned worldwide for its exceptional vineyards and the artistry of its winemakers. The terroir, with its unique combination of climate, soil, and geography, provides an ideal environment for cultivating exceptional grapes.
It is within this magnificent region that the Grand Reyne vineyards thrive, benefiting from Bordeaux's rich viticultural history and its commitment to producing wines of the highest quality.
The Essence of AOC Bordeaux
Guaranteed Excellence and Origin
Grand Reyne proudly bears the coveted AOC (Appellation d'Origine Contrôlée) designation, which ensures authenticity, quality, and adherence to stringent winemaking standards. This esteemed classification guarantees that the wine originates from the Bordeaux region and is produced using specific grape varieties and winemaking techniques. By bearing the AOC Bordeaux label, Grand Reyne embodies the essence of the region, promising a wine of unparalleled excellence and character.
Unveiling the Grape Varieties
A Harmonious Blend of Merlot, Cabernet Sauvignon, and Cabernet Franc
The masterful blend of grape varieties lies at the core of Grand Reyne's enchanting flavor profile. With 60% Merlot, 30% Cabernet Sauvignon, and 10% Cabernet Franc, this wine showcases the art of blending, harnessing the unique characteristics of each grape to create a harmonious symphony on the palate. The result is a wine that exhibits the best of Bordeaux's renowned grape varieties, delivering an unforgettable tasting experience.
Tasting Notes: A Symphony of Flavors
Medium-Bodied Splendor
Grand Reyne delights the senses with its medium-bodied nature, perfectly balancing richness and finesse. Adorned with a lustrous plum color, this wine entices the eye and prepares the palate for an indulgent journey. Upon the first sip, the elegant nose reveals itself, offering an enticing bouquet of fresh ripe raspberry and black cherry.
As the wine dances across the tongue, its supple and silky texture enchants, gently intertwining fruity and roasted aromas. Every sip is a celebration of flavors, harmoniously intertwined, showcasing the artistry and expertise that went into creating this exceptional Bordeaux wine. Grand Reyne stands proud as a pleasant and well-structured wine, captivating both connoisseurs and newcomers alike.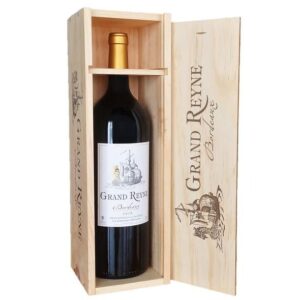 The Art of Wine Making
Meticulous Craftsmanship in Stainless Steel Vats
Behind the scenes, Grand Reyne undergoes a meticulous wine-making process, ensuring that every drop is a testament to craftsmanship and quality. Following the harvest, the grapes are carefully vinified and aged for six months in stainless steel vats.
This process allows the wine to develop its full potential while preserving its freshness and vibrant character. The result is an impeccable wine that showcases the nuances and complexities of Bordeaux's terroir, encapsulating the essence of the region within every bottle.
Grand Reyne: A Majestic Bordeaux Gem
In the realm of fine wines, few enchant as effortlessly as the Grand Reyne, AOC Bordeaux, 2018 Magnum 1.5L (Wooden Case). From the moment it graces your glass, its shining plum color hints at the wonders awaiting your senses. With each sip, you'll be transported to the enchanting vineyards of Bordeaux, where centuries of tradition and expertise converge to create this extraordinary creation.
Grand Reyne is a testament to the artistry of winemaking, boasting a captivating flavor profile that marries fruity and roasted aromas with finesse. As you savor this medium-bodied treasure, allow yourself to be captivated by its supple texture and impeccable structure. Let Grand Reyne be your gateway to the Bordeaux experience, a journey that is both timeless and unforgettable.
Grand Reyne, AOC Bordeaux, 2018 Magnum 1.5L (Wooden Case)
Region 地區
Bordeaux, France 波爾多, 法國
Controlled Appellation 地理位置
AOC
Grape Variety 葡萄種類
60% Merlot, 30% Cabernet Sauvignon, 10% Cabernet Franc
Tasting Note 酒評
Medium bodied. It has a nice shining plum colour, along with elegant nose of fresh ripe raspberry and black cherry. The mouth is supple, silky and delicately mingles fruity and roasted aromas. A pleasant wine, well structured.
Wine Making 製造程序
6 months in stainless steel vats