La Locomotora Gran Reserva 2010: A Journey Through Tempranillo Excellence
Welcome to Wine Maven, where we embark on a delightful expedition through the world of wine. Today, we present to you a true gem from the renowned village of Briones, Spain. Introducing La Locomotora Gran Reserva 2010, a perfect example of the finest Tempranillo crafted with utmost dedication and expertise. Allow your senses to be captivated by this exceptional wine, as we delve into its intriguing characteristics and remarkable journey from vineyard to bottle.
Discovering La Locomotora Gran Reserva 2010
Region and Grape Variety
Region: Rioja, Spain
Grape Variety: 100% Tempranillo
La Locomotora Gran Reserva 2010 originates from the prestigious Rioja region in Spain. Known for its rich viticultural heritage, this region breathes life into the vines that produce exceptional Tempranillo grapes. With its ideal climate and distinctive terroir, Rioja offers the perfect conditions for cultivating grapes of extraordinary quality. La Locomotora Gran Reserva is exclusively crafted using 100% Tempranillo grapes, ensuring an authentic and expressive representation of this iconic varietal.
Age of the Vines and Maturation Process
Age of the Vines: 45 years old
The vines that yield the precious Tempranillo grapes for La Locomotora Gran Reserva have stood the test of time, with an impressive age of 45 years. These mature vines possess a deep-rooted wisdom, resulting in grapes of exceptional flavor and complexity.
Maturation: A Labor of Time and Expertise
La Locomotora Gran Reserva 2010 undergoes an extensive maturation process that contributes to its remarkable depth and character. Following fermentation, this exceptional wine is matured in French oak barrels for two years, allowing it to develop unique nuances and subtle notes. After its time in the barrels, the wine is bottled and left to gracefully age for over 7.5 years, further enhancing its complexity and ensuring a truly harmonious drinking experience.
It is worth noting that only the finest François Frères French oak barrels, revered by renowned wineries such as D.R.C. and LEROY in Burgundy, are chosen for the maturation of La Locomotora Gran Reserva. This careful selection adds an extra layer of refinement and elegance to the wine, making it a true connoisseur's delight.
The Captivating Symphony of Tasting Notes
Aromas and Flavors
At first sip, La Locomotora Gran Reserva 2010 offers an enchanting infusion of spices that dances upon your palate. Its inviting aroma evokes images of a forest floor, blending seamlessly with the tantalizing essence of ripe fruits. This exquisite balance of scents sets the stage for a truly captivating wine experience.
Texture and Finish
From the moment it graces your lips, La Locomotora Gran Reserva 2010 showcases a superb entry, enveloping your senses with its silky-smooth texture. The tannins, elegantly rounded, embrace your palate, while a refreshing finish leaves you yearning for another sip. This wine's impeccable structure and flawless harmony are testaments to the craftsmanship and expertise invested in its creation.
Score: 92 Guía Peñin
Esteemed by critics, La Locomotora Gran Reserva 2010 has earned a remarkable score of 92 from Guía Peñin, a prestigious wine guide known for its discerning evaluations. This accolade further reinforces the exceptional quality and undeniable allure of this extraordinary Tempranillo.
Pairing with Culinary Delights
La Locomotora Gran Reserva 2010 is a versatile companion, enhancing a wide array of culinary experiences. Its complexity and depth harmonize beautifully with great and sophisticated dishes of classic cuisine. Whether you're indulging in a succulent roast, savoring a rich and hearty stew, or relishing the flavors of aged cheese, this wine is certain to elevate your dining experience to new heights.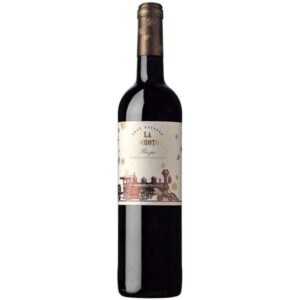 The Perfect Serving Temperature
To fully appreciate the symphony of flavors and aromas that La Locomotora Gran Reserva 2010 has to offer, it is recommended to serve it at a temperature between 16 and 18°C. This optimal range ensures that every sip reveals the wine's true essence, allowing you to savor its nuances and intricacies to the fullest.
Embark on a Memorable Journey with La Locomotora Gran Reserva 2010
La Locomotora Gran Reserva 2010 stands as a testament to the artistry and passion of winemaking. Crafted from the finest Tempranillo grapes nurtured in the esteemed vineyards of Briones, this wine represents the epitome of excellence. With its enticing aromas, impeccable structure, and captivating flavors, La Locomotora Gran Reserva 2010 promises a memorable journey through the world of Tempranillo.
Indulge in this extraordinary wine, and let its velvety texture, harmonious balance, and long-lasting finish transport you to the sun-kissed vineyards of Rioja, Spain. La Locomotora Gran Reserva 2010 is more than a wine; it is an invitation to savor the artistry, dedication, and timeless elegance that make it truly exceptional.
La Locomotora Gran Reserva 2010
Region 地區
Rioja, Spain 里奧哈, 西班牙
Grape Variety 葡萄品種
100% Tempranillo 丹魄
Age of the vines 葡萄籐樹齡
45 years old 年
Maturation 陳釀
Matured in French oak barrels for 2 years, in bottle for over 7.5 years.
在法國橡木桶中陳釀 2 年,瓶內陳釀 7.5 年以上。
*只採用法國勃艮第最頂級酒莊 D.R.C 及 LEROY 御用的 François Frères 法國橡木桶
*François Frères French barrels only, which are used by the top D.R.C. and LEROY winieres
in Burgundy
Tasting Notes 酒評
Perfect example of the best Tempranillo from vineyards located in the prestigious village of
Briones. On the nose it's an infusion of spices balanced with a suggestive scent of forest floor
and ripe fruit. It shows a good entry, silky mouth-feel, round tannins and fresh finish.
散發的香氣混合類似森林地表和成熟水果的味道,並有輕微的香料味道作平衡,口感良好,
柔滑如絲,餘味滿注單寧和清新的香氣。
Score: 92 Guía Peñin
Food Pairing 配襯食品
Great and sophisticated dishes of the classic cuisine 各式複雜的經典菜式
Service 飲用溫度
16 – 18°C