[vc_row][vc_column width="1/2″][vc_column_text woodmart_inline="no" text_larger="no"]
Bean Bag Chair Cover – "Life Happens. Wine Helps."
Welcome to Wine Maven, where we believe in adding a touch of comfort and style to your favorite space. Are you tired of mundane furniture that lacks personality? Well, we have just the thing for you! Introducing our Bean Bag Chair Cover – "Life Happens. Wine Helps." This vibrant and cozy bean bag cover will revolutionize your room and provide a delightful seating experience. Let's dive into the details and discover how this bean bag cover can transform your space.
Unveiling a Comfy and Vibrant Addition
The Perfect Blend of Comfort and Design
Our Bean Bag Chair Cover is a must-have for those seeking a stylish and relaxing seating option. Crafted with care, this cover is designed to bring a touch of vibrancy to any room. Made from 100% polyester, the cover combines durability and softness for the ultimate lounging experience. Its fabric weight of 9.91 oz/yd² (336 g/m²) ensures that it feels luxurious to the touch while remaining lightweight and easy to move around.
Embrace the Practicality of Water-Resistant Material
Accidents happen, spills occur, but with our Bean Bag Chair Cover, you can bid farewell to worries about liquid mishaps. The water-resistant material acts as a protective shield, keeping your bean bag safe from unexpected spills and stains. Now, you can relax and enjoy a glass of your favorite wine without the fear of ruining your beloved furniture.
Convenience at Your Fingertips
At Wine Maven, we understand the importance of simplicity. That's why we've equipped our Bean Bag Chair Cover with a childproof bottom zipper, complete with a single slider. This thoughtful addition ensures that the filling process is a breeze. You can easily customize your bean bag by filling the cover with the material of your choice. Whether it's cozy foam or fluffy beads, the decision is yours. Embrace creativity and find the perfect filling to suit your comfort needs.
Quality Assured, Sourced with Care
We take pride in offering products of the highest quality. The blank components of our Bean Bag Chair Cover are thoughtfully sourced from China, where craftsmanship and attention to detail are paramount. Rest assured that you're investing in a cover that will stand the test of time, maintaining its vibrant colors and ensuring lasting comfort.[/vc_column_text][/vc_column][vc_column width="1/2″][vc_column_text woodmart_inline="no" text_larger="no"]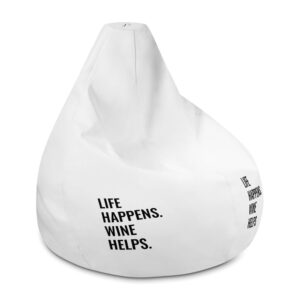 Finding the Perfect Fit
Optimal Filling Recommendation
To maximize your comfort and achieve the ideal bean bag experience, we recommend using 200l (7cf) of filling for our Bean Bag Chair Cover. This volume ensures a plush and supportive seating surface that molds to your body, providing unparalleled relaxation. However, feel free to adjust the amount of filling to your personal preference and desired level of coziness.
Embrace the Comfort, Revel in the Style
It's time to elevate your room to new heights of comfort and style with our Bean Bag Chair Cover – "Life Happens. Wine Helps." Add a splash of vibrancy, convenience, and relaxation to your favorite space. Crafted with care, our water-resistant cover ensures durability and practicality. Fill it with your preferred material, and let it cradle you in comfort. Wine Maven invites you to indulge in the simple pleasures of life while enjoying the coziness our bean bag cover provides. Enhance your living space, because after all, life happens, but with wine and a luxurious bean bag, it gets a little easier.[/vc_column_text][/vc_column][/vc_row]