The Perfect Blend of Cozy and Chic
The Ultimate Companion for Wine Enthusiasts
Welcome to the world of Wine Maven, where we understand that life is full of moments that deserve celebration. Introducing our remarkable creation, the "Life Happens. Wine Helps." Ladies' Long Sleeve Tee. This stylish and comfortable garment is designed to bring together the best of both worlds: coziness and chic fashion. Crafted with meticulous attention to detail, this tee is not just an ordinary piece of clothing; it's a statement of passion and appreciation for the finer things in life.
Effortless Elegance and Comfort
A Fusion of Quality Materials
This ladies' long sleeve tee is expertly crafted from a high-quality blend of 65% polyester and 35% viscose. The polyester component ensures durability and resistance to stretching, while the viscose fabric adds a touch of softness and breathability to keep you comfortable all day long. It's a perfect combination that guarantees both longevity and a luxurious feel against your skin.
Designed for Relaxed Sophistication
The "Life Happens. Wine Helps." Ladies' Long Sleeve Tee features an innovative design that effortlessly combines style with comfort. The drop shoulder design adds a touch of contemporary flair, while the curved bottom hem offers a flattering silhouette that complements any body shape. Whether you're enjoying a casual outing with friends or attending a wine tasting event, this tee will elevate your look to new heights of sophistication.
Unleash Your Inner Wine Maven
Express Your Love for Wine
Are you passionate about wine? Do you believe in celebrating life's precious moments with a glass of your favorite vintage? Then this tee is made for you. The bold and playful slogan, "Life Happens. Wine Helps.," proudly displayed on the front, makes a statement about your appreciation for the finer things in life. It's an invitation to embrace the joy and relaxation that comes with indulging in a good glass of wine, and it serves as a conversation starter for fellow wine enthusiasts.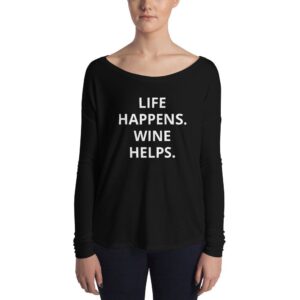 Versatile Fashion for Every Occasion
The versatility of this ladies' long sleeve tee knows no bounds. Its relaxed fit makes it perfect for casual wear, allowing you to effortlessly transition from a day at the office to a cozy evening at home. Pair it with your favorite jeans for a laid-back yet chic look, or dress it up with a skirt and heels for a more polished ensemble. No matter the occasion, this tee will be your go-to choice for comfort and style.
A Must-Have for Wine Lovers
Elevate Your Wardrobe with Wine Maven
In conclusion, the "Life Happens. Wine Helps." Ladies' Long Sleeve Tee from Wine Maven is a true masterpiece that combines fashion, comfort, and a love for wine. With its high-quality materials, thoughtful design, and versatile style, this tee is a must-have addition to any wine lover's wardrobe. Embrace the message it carries, celebrate life's beautiful moments, and let the world know that wine truly helps navigate the journey. Indulge yourself in this extraordinary tee and experience the perfect blend of cozy and chic.