A Necklace that Speaks Volumes
A Fashionable Companion for Wine Enthusiasts
Indulge in the perfect blend of style and sentiment with the exquisite "Life Happens. Wine Helps." Engraved Silver Disc Necklace. This captivating piece of jewelry is designed to delight wine lovers and add a touch of elegance to any outfit. Crafted from sterling silver with a nickel-free coating, this necklace showcases a stunning disc pendant, conveying a message that resonates with those who appreciate the joys of life and the solace found in a glass of fine wine.
The Allure of Sterling Silver Craftsmanship
Exquisite Beauty and Lasting Durability
Meticulously crafted from premium sterling silver (AG-925), the pendant and chain of this silver disc necklace embody exceptional quality and craftsmanship. The lustrous silver surface, enhanced by a fashionable nickel-free coating, offers a brilliant shine that effortlessly catches the eye. This necklace not only exudes elegance but also promises enduring durability, ensuring it remains a cherished keepsake for years to come.
Unparalleled Style and Versatility
A Timeless Pendant for Any Occasion
Measuring 0.79" x 0.79" (20 x 20 mm) and featuring a slender thickness of 0.02" (0.6 mm), the pendant showcases a dainty yet eye-catching design. The "Life Happens. Wine Helps." engraving, delicately etched onto the surface, serves as a reminder of life's joys and the comforting embrace of a glass of wine. The pendant is flawlessly connected to the chain with an open jump ring, creating a seamless and visually appealing aesthetic.
Embrace the Perfect Fit and Convenient Closure
A Necklace That Adapts to You
With its spring ring clasp closure, this silver disc necklace ensures a secure and comfortable fit. The adjustable chain length provides flexibility, allowing you to customize the necklace to suit your preferred style and neckline. Whether you choose to wear it as a subtle accessory or a statement piece, this necklace effortlessly adapts to any occasion, enhancing your ensemble with its graceful presence.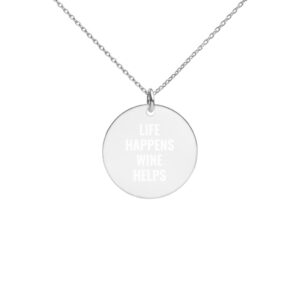 A Touch of Polish Heritage
Sourced from the Land of Craftsmanship
Each blank pendant, the very foundation of this captivating necklace, is sourced from the skilled artisans of Poland. Known for their rich heritage in jewelry making, these craftsmen infuse their expertise and attention to detail into every piece. The result is a necklace that not only reflects the allure of fine craftsmanship but also carries a touch of cultural significance, adding depth to its overall charm.
Elevate Your Style with Wine-Inspired Elegance
A Captivating Reminder of Life's Pleasures
The "Life Happens. Wine Helps." Engraved Silver Disc Necklace is more than just an accessory; it's a celebration of life's precious moments and the joy found in a glass of wine. With its exquisite sterling silver craftsmanship, fashionable coating, and meaningful engraving, this necklace embodies elegance and sophistication. Treat yourself or surprise your loved ones with a gift that captures the essence of indulgence and the beauty of wine. Let this necklace be a charming companion, a visual reminder that amidst the twists and turns of life, a glass of wine can provide solace and celebration.