Discover the Exquisite Mansion House Bay Sauvignon Blanc 2020
Imagine savoring a glass of wine that effortlessly transports you to the picturesque coastal region of Marlborough, New Zealand. Mansion House Bay Sauvignon Blanc 2020 is a true embodiment of the region's viticultural prowess and natural beauty. With its captivating aromas, vibrant flavors, and impeccable craftsmanship, this wine captures the essence of a sunny Marlborough day in a bottle.
Unveiling the Aromatic Symphony
As you uncork a bottle of Mansion House Bay Sauvignon Blanc 2020, your senses are greeted with an intoxicating bouquet. The lifted nose reveals a delightful harmony of stonefruit, mango, and guava, intertwining with the invigorating essence of grapefruit and gentle crushed herbs. This intricate fusion of scents entices you, drawing you closer to the glass in anticipation of the pleasures to come.
A Journey of Flavors on the Palate
Upon taking your first sip, you embark on a journey of flavors that unfold with each passing moment. This zesty, medium-bodied wine envelops your taste buds with an abundance of fruit purity and juiciness. The citrus and tropical flavors dance across your palate, leaving an indelible impression of freshness and vibrancy. As you savor this exquisite wine, its flavors linger, offering a long and refreshing finish that leaves you craving another sip.
Perfect Pairings for Culinary Delights
Mansion House Bay Sauvignon Blanc 2020 is a versatile companion for a wide array of culinary delights. Its vibrant character and well-balanced acidity make it a perfect match for fresh seafood, particularly Marlborough's renowned green-shell mussels. The wine's elegance and refreshing nature also lend themselves beautifully to summer salads, complementing their vibrant flavors.
When it comes to poultry, this Sauvignon Blanc shines, effortlessly enhancing the flavors of grilled chicken or succulent turkey. The wine's crispness and subtle herbaceous notes provide a delightful contrast, elevating each bite to new heights. For those who appreciate the tangy creaminess of goat's cheese, this wine's bright acidity serves as a perfect counterpoint, creating a symphony of flavors on the palate.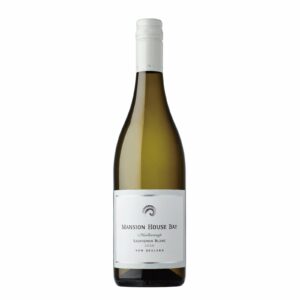 Unleashing the Potential
While our 2020 Mansion House Bay Sauvignon Blanc is undeniably delightful in its youth, its true potential extends far beyond the present. If carefully cellared, this wine has the capacity to develop further over the next three to five years. As time passes, the vibrant flavors and aromas harmonize, creating a more nuanced and complex drinking experience that showcases the wine's remarkable evolution.
A Timeless Expression of Marlborough
In the heart of Marlborough, nestled among rolling hills and picturesque vineyards, the Mansion House Bay Sauvignon Blanc 2020 awaits your discovery. Its captivating aromas, vibrant flavors, and refreshing finish encapsulate the essence of this renowned wine region.
Whether you're enjoying a leisurely afternoon with friends, indulging in a sumptuous feast, or simply seeking a moment of tranquility, this exceptional wine is an invitation to savor the beauty and flavors of Marlborough, one sip at a time. Raise your glass and immerse yourself in the timeless elegance of Mansion House Bay Sauvignon Blanc 2020.