Unveiling the Enchanting Elegance of Mosnel Franciacorta Saten 2015 750ml
A Captivating Journey into the World of Mosnel Franciacorta Saten
Step into a world where brilliance meets refinement, and elegance dances with intensity. Join us as we embark on an enchanting exploration of the renowned Mosnel Franciacorta Saten 2015 750ml, a masterpiece of Italian winemaking. This captivating sparkling wine captivates the senses with its mesmerizing gold hue, delicate bubbles, and an exquisite symphony of aromatics. As we delve deeper into the essence of Mosnel Franciacorta Saten, be prepared to be transported to a realm of sophistication, where every sip tells a story of passion, craftsmanship, and timeless allure.
Unveiling the Essence: A Dance of Flavors and Aromas
A Golden Symphony for the Senses
The Mosnel Franciacorta Saten 2015 750ml unveils itself in a resplendent gold hue, shimmering in the glass like liquid sunshine. With its dense, creamy bead of pin-point bubbles, it sets the stage for a sensory journey unlike any other. As you raise the glass to your lips, the enticing aromatics come alive, weaving a tapestry of scents that effortlessly captivate your attention.
Aromas that Whisper Secrets
Breathe in the intoxicating bouquet of Mosnel Franciacorta Saten, and allow your senses to be enveloped by its sheer elegance. The first impression reveals a delightful interplay of bergamot, jasmine, and calycanthus, lending a crisp and clean edge to the experience. As the fragrances intertwine, you'll detect subtle hints of star anise and white pepper, adding a touch of pungency that ignites the palate.
A Symphony of Flavors Unleashed
Prepare to be seduced by the symphony of flavors that awaits you upon tasting Mosnel Franciacorta Saten. The palate unfolds with a majestic elegance, unveiling an exquisite dance of mint and dried fruit, accompanied by a delicate nuttiness that lingers on the tongue. A pinch of sea salt adds a tantalizing touch, animating the flavors and amplifying the wine's stylish, long-lingering finish.
Crafted with Distinction: Unveiling the Winemaking Artistry
The Grapes Behind the Magic: Chardonnay
At the heart of Mosnel Franciacorta Saten lies the esteemed Chardonnay grape, meticulously cultivated to perfection. Renowned for its versatility and ability to express the terroir, Chardonnay lends its grace and finesse to this remarkable sparkling wine. The unique characteristics of the grape shine through, enhancing the overall experience and contributing to the wine's exceptional quality.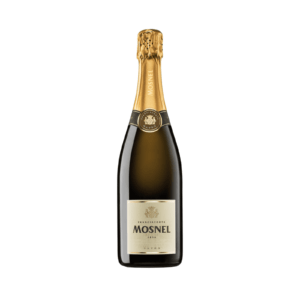 The Fine Balance: ABV and Volume
Mosnel Franciacorta Saten strikes the perfect balance between its alcoholic strength and volume. With an ABV (Alcohol By Volume) of 12.5%, this sparkling wine embodies a harmonious equilibrium, ensuring a refined and enjoyable tasting experience. Presented in a 750ml bottle, it offers an ample quantity to savor the wine's magnificence, making it an ideal companion for special occasions and moments of celebration.
A Timeless Treasure to Be Cherished
Indulge in the Splendor of Mosnel Franciacorta Saten
In the realm of exquisite sparkling wines, Mosnel Franciacorta Saten 2015 750ml stands tall as a true gem. Its captivating gold hue, delicate bubbles, and tantalizing aromatics transport you to a world of refined elegance and unmatched beauty. With every sip, this enchanting creation whispers tales of passion, dedication, and the pursuit of perfection. Whether shared among dear friends, presented as a gift, or savored during a cherished moment, Mosnel Franciacorta Saten is a timeless treasure that deserves to be cherished. Embark on this sensory journey and experience the magic for yourself. Raise your glass and allow the symphony of flavors to unfold, as Mosnel Franciacorta Saten indulges your senses and leaves an everlasting impression.
Grape: Chardonnay
ABV: 12.5%
Volume: 750ML