Discover the Captivating Grand Reyne, AOC Bordeaux, 2020
Step into the world of Bordeaux and experience the enchantment of Grand Reyne, AOC Bordeaux, 2020. This extraordinary wine exemplifies the rich heritage and exquisite craftsmanship that have made Bordeaux a revered name among wine enthusiasts worldwide. With its medium body and delightful characteristics, it captures the essence of elegance and sophistication in every sip.
Unveiling the Essence of Grand Reyne
A Melody of Flavors and Aromas
Indulge your senses with the captivating hues and aromas of the AOC Bordeaux, 2020. As you pour this remarkable wine, your eyes will be drawn to its beautiful shining plum color, hinting at the delights to come. The nose unveils an elegant bouquet, showcasing the freshness of ripe raspberries and black cherries.
A Supple and Silky Journey
Prepare to embark on a journey of refined pleasure as Grand Reyne gently caresses your palate. The mouthfeel is supple, offering a silky texture that effortlessly glides across your taste buds. Here, fruity and roasted aromas delicately intertwine, creating a symphony of flavors that harmonize with each sip. The wine's medium body is well-balanced, allowing its complexities to shine through while maintaining a pleasant and approachable nature.
The Birthplace of Grand Reyne
Bordeaux, France: A Land of Vinicultural Excellence
Grand Reyne hails from the prestigious Bordeaux region, nestled in the heart of France. Renowned for its centuries-old winemaking traditions, Bordeaux stands as a testament to the artistry and expertise of its vintners. The unique terroir, with its ideal climate and diverse soil compositions, provides the perfect environment for cultivating exceptional grape varietals.
An Exquisite Blend of Grape Varieties
60% Merlot, 30% Cabernet Sauvignon, 10% Cabernet Franc
Grand Reyne, AOC Bordeaux, 2020, is a masterful blend of three distinguished grape varieties. The wine's foundation rests upon the velvety smoothness of Merlot, comprising 60% of the blend. This varietal brings forth a soft and luscious character, contributing to the wine's approachability and rounded structure. Cabernet Sauvignon, accounting for 30% of the blend, adds depth and complexity with its bold flavors and firm tannins. Lastly, the final 10% of Cabernet Franc brings its aromatic charm, infusing the wine with a touch of elegance.
Crafting Grand Reyne: A Labor of Love
Nurtured to Perfection
The creation of Grand Reyne involves a meticulous winemaking process that ensures the wine's integrity and finesse. Following the careful selection of grapes, the wine undergoes fermentation and aging, guided by the hands of skilled craftsmen. For a duration of six months, Grand Reyne rests in stainless steel vats, allowing the flavors to harmonize and develop.
Elevate Your Wine Experience with Grand Reyne, AOC Bordeaux, 2020
Grand Reyne, AOC Bordeaux, 2020, encapsulates the essence of Bordeaux's winemaking excellence. From its alluring plum color to its supple mouthfeel and intricate flavors, this wine invites you to savor the beauty of each sip. The artful blend of Merlot, Cabernet Sauvignon, and Cabernet Franc showcases the harmonious union of grape varieties, creating a symphony of taste. Let Grand Reyne transport you to the enchanting vineyards of Bordeaux, where tradition and innovation unite to produce a wine that embodies sophistication and pleasure. Experience the allure of Grand Reyne and elevate your wine journey to new heights.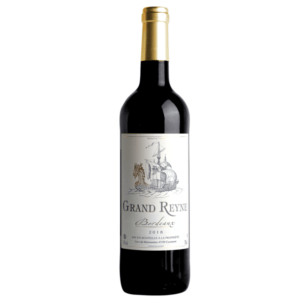 Grand Reyne, AOC Bordeaux, 2020
Region 地區
Bordeaux, France 波爾多, 法國
Controlled Appellation 地理位置
AOC
Grape Variety 葡萄種類
60% Merlot, 30% Cabernet Sauvignon, 10% Cabernet Franc
Tasting Note 酒評
Medium bodied. It has a nice shining plum colour, along with elegant nose of fresh ripe raspberry and black cherry. The mouth is supple, silky and delicately mingles fruity and roasted aromas. A pleasant wine, well structured.
Wine Making 製造程序
6 months in stainless steel vats