Unveiling the Hidden Gem: Doudet Naudin Maranges 1 er Cru Clos Roussot
Indulge in a sensory journey with the exquisite Doudet Naudin Maranges 1 er Cru Clos Roussot, a captivating wine that emanates elegance and charm. This Burgundy gem, hailing from the AOC Maranges 1er Cru region in France, is a testament to the artistry and finesse of winemaking. With its delightful characteristics and alluring flavour profile, this 1er Cru has remained an overlooked treasure for far too long.
Region and Terroir: AOC Maranges 1er Cru, Burgundy, France
The Enigmatic Beauty of Maranges
Nestled in the southwest part of the Côte de Beaune, adjacent to the picturesque village of Santenay, lies the captivating vineyard of Maranges. Despite its enchanting allure, this region remains relatively unknown to many. The controlled appellation of AOC Maranges 1er Cru is a testament to its unique geographical position and rich winemaking heritage.
Grape Variety: 100% Pinot Noir
Embracing Pinot Noir's Splendour
Doudet Naudin Maranges 1 er Cru Clos Roussot showcases the pure essence of the Pinot Noir grape variety. Renowned for its versatility and ability to express terroir, Pinot Noir infuses this wine with a captivating character. With its deep crimson hue and vibrant aromas, this wine embodies the spirit of Burgundy.
Craftsmanship: From Vineyard to Bottle
Meticulous Artistry Behind Each Drop
At Doudet-Naudin, the winemaking process begins with manual harvest-picking, ensuring only the finest grapes make their way into the winery. With utmost care, the grapes are meticulously sorted in both the vineyard and the winery's selection tables. A daily punching of the cap and controlled fermentation temperatures unlock the expressive fruit notes, while open vats facilitate the transformation. This wine matures gracefully over 15 months in oak barrels, further enhancing its complexity and depth.
Tasting Notes: An Exquisite Symphony of Flavours
A Symphony for the Senses
The Doudet Naudin Maranges 1 er Cru Clos Roussot enchants from the moment it graces your glass. Delicate vermilion brown highlights intertwine with a pretty robe, enticing the eye. As you bring the glass closer, the nose reveals an intriguing blend of animalistic and perfumed aromas. Ripe fruits, such as blackberry, black cherry, and blackcurrant, dance harmoniously, creating a charming and well-balanced bouquet. On the palate, this wine unfolds with a velvety roundness, captivating your taste buds with its gourmet development. A true reflection of its terroir, this 1er Cru presents a mesmerizing taste experience that deserves recognition.
Food Pairing: Elevating Culinary Delights
A Perfect Companion to Gastronomic Adventures
The versatility of Doudet Naudin Maranges 1 er Cru Clos Roussot knows no bounds when it comes to pairing it with culinary delights. For those who appreciate the classics, this wine effortlessly complements a variety of meats, from tender cuts to delectable roasts and grills. Picture a succulent Andouillette or a perfectly seasoned terrine gracefully harmonizing with each sip. White meat and poultry find their perfect match, while dishes cooked in rich sauces or accompanied by mushrooms reveal new dimensions of flavour. As the wine ages, its transformative nature embraces even bolder pairings, adding a touch of brilliance to each gastronomic adventure.
Service: Unveiling the Perfect Temperature
Unlocking the Full Potential
To fully appreciate the Doudet Naudin Maranges 1 er Cru Clos Roussot, it is recommended to serve it at a temperature between 15 and 16°C. This optimal range allows the wine to reveal its true character and ensures an unforgettable experience with every sip.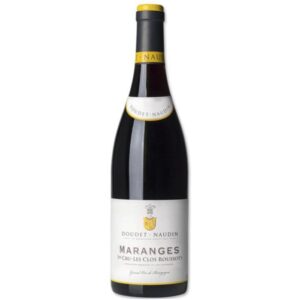 Unleashing the Unseen: Embrace Doudet Naudin Maranges 1 er Cru Clos Roussot
In the vast world of wines, hidden gems like the Doudet Naudin Maranges 1 er Cru Clos Roussot often elude our attention. However, this 1er Cru possesses a charm and elegance that deserves recognition. With its captivating aromas, well-balanced palate, and refined craftsmanship, this wine represents the epitome of Burgundian excellence. Indulge in the allure of Doudet Naudin Maranges 1 er Cru Clos Roussot, and let its hidden splendour unfold, sip by sip. Discover the joy of this overlooked treasure and embark on a remarkable journey through the terroir of Maranges.
Doudet Naudin Maranges 1 er Cru Clos Roussot
Region 地區
AOC Maranges 1er Cru, Burgundy, France 勃艮地, 法國
Controlled Appellation 地理位置
Located just at the southwest part of the Côte de Beaune and against the village of Santenay,
Maranges is really an interesting but not yet well-known vineyard.
Grape Variety 葡萄種類 : 100% Pinot Noir 黑皮諾
Wine Making 製造程序
Manual harvest-picking. The grapes are sorted in the vineyard and then in the winery of
Doudet-Naudin and are controlled on selection tables. A punching of the cap is done daily
and the controlled temperature allows the expression of the fruit. The fermentation is done in
open vats before pressing. 15 months of growing. Matured for 15 months in oak barrels.
Tasting Notes 酒評
Pretty robe with some bright vermilion brown highlights. The animal and perfumed nose
reveals a beautiful ripe fruit opens on aromas of fruits (blackberry, black cherry and
blackcurrant) the whole is charming and well balanced. The palate is round with a beautiful
gourmet development with a taste of the terroir. This is a nice 1er Cru too often overlooked.
Food Pairing 配襯食品
This wine goes well with meats but also young, an "Andouillette" for example, but Also a
good terrine. Some white meat, poultry but also all roasts and grills. After a few years it is
quite able to offer a great accompaniment to meat cooked in sauce, or with mushrooms
(unless too spicy) and kidney.
Service 飲用溫度 : 15 – 16°C.