Discover the Alluring Delights of La Locomotora Crianza 2014
Unveiling an extraordinary gem from the renowned wine region of Rioja, Spain, allow us to introduce you to the captivating La Locomotora Crianza 2014. Crafted with utmost care and dedication, this exceptional wine takes your palate on an unforgettable journey through its distinct flavors and enticing aromas. As we delve into the fascinating details of this remarkable creation, prepare to be captivated by the story behind this vintage and its remarkable qualities.
The Essence of La Locomotora Crianza
A Tempranillo Marvel from Briones
At the heart of La Locomotora Crianza 2014 lies the essence of pure Tempranillo sourced from the picturesque vineyards of Briones. These vines, aged between 20 and 40 years, lend their wisdom and character to the wine, delivering a truly remarkable expression of this iconic grape variety. The grapes, carefully selected and gently handled, undergo a unique fermentation process to preserve their natural qualities and flavors.
Crafted with Precision and Maturity
To create this magnificent wine, the uncrushed grapes are given a six-day cold soak, allowing the extraction of delicate nuances from the skins. Fermentation takes place with the assistance of natural yeasts in stainless steel, ensuring a pure and authentic expression of the fruit. Following this, the wine undergoes malolactic fermentation, still within stainless steel tanks, which further enhances its complexity and depth.
The Art of Maturation
To achieve the desired harmony and refinement, La Locomotora Crianza 2014 is matured with care and precision. French oak barrels, with a touch of new wood comprising 10% of the total, become the vessel for its transformation. Over the course of 12 months, the wine slowly matures, absorbing the subtle influence of the oak while maintaining its distinctive character. Finally, it is allowed to rest and develop further in the bottle for over a year, reaching the peak of its potential.
Tasting Notes: A Symphony of Sensations
Aromatic Wonders Unleashed
As you pour a glass of La Locomotora Crianza 2014, you are greeted by a symphony of captivating aromas. Let your senses dance with delight as the essence of wet fur, singed leather, cured meat, smoke, and liquorice fills the air. These intriguing animal notes, wrapped in a veil of reductive beauty, transport you to the heart of the vineyard, evoking the very essence of its terroir.
A Polished Palate Experience
With each sip, the polished and velvety texture of this wine unfolds on your palate. La Locomotora Crianza 2014 possesses a light to medium-bodied nature, making it incredibly approachable and easy to enjoy. Its elegant structure and balanced flavors caress your taste buds, revealing layers of complexity. Truly a masterpiece, only 29,000 bottles of this exceptional vintage were produced, each bearing the mark of excellence.
Food Pairing: A Culinary Adventure
Elevate Your Dining Experience
La Locomotora Crianza 2014 is the perfect companion for enhancing your gastronomic journey. Its versatility shines through, allowing it to beautifully complement an array of dishes. Picture a creamy rice dish, its flavors heightened by the wine's subtle elegance. Imagine savoring fish and white meats, grilled to perfection and accompanied by the harmonious marriage of flavors that this vintage provides. And for those who appreciate artisanal cheeses, La Locomotora Crianza 2014 pairs magnificently with sheep or goat cheese, adding a touch of indulgence to your cheeseboard.
Service and Enjoyment
The Perfect Temperature for Pleasure
To experience La Locomotora Crianza 2014 at its finest, serve it at a temperature between 16 and 18°C. This ideal range ensures that the wine's flavors are accentuated, allowing you to fully appreciate its richness and complexity. Take your time, indulge in the moment, and allow this exceptional wine to unfold its wonders with every sip.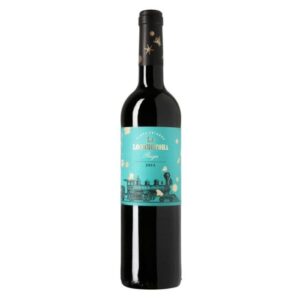 Embark on a Journey with La Locomotora Crianza 2014
In the realm of fine wines, La Locomotora Crianza 2014 stands as a testament to the artistry and passion of winemaking. From its origins in the enchanting vineyards of Briones to the meticulous craftsmanship involved in its creation, this vintage embodies the true spirit of Rioja's winemaking heritage. With its alluring aromas, refined palate, and remarkable versatility, La Locomotora Crianza 2014 promises an unforgettable experience for wine enthusiasts and connoisseurs alike. Treat yourself to this extraordinary masterpiece and allow yourself to be transported to a world of pure vinous delight.
La Locomotora Crianza 2014
Region 地區
Rioja, Spain 里奧哈, 西班牙
Grape Variety 葡萄品種
100% Tempranillo 丹魄
Age of the vines 葡萄籐樹齡
20 – 40 years old 年
Maturation 陳釀
Matured in French oak barrels for 1 year, in bottle for over 1 year.
在法國橡木桶中陳釀 1 年,瓶內陳釀 1 年以上。
Tasting Notes 酒評
Pure Tempranillo from Briones. After a six-day cold soak, uncrushed grapes fermented with natural yeasts in stainless steel, followed by malolactic in stainless steel. Matured in French oak barrels, 10% new, for 12 months. reductive, with strong animal aromas of wet fur, singed leather, cured meat, smoke and liquorice. The palate is very polished, light to mediumbodied, easy and approachable. 29,000 bottles produced. It was bottled in June 2017.
具有強烈的皮草、皮夾、風腿、煙燻和甘草味。 口感非常優雅,酒體屬中厚身。只生產 29,000 瓶。
Food Pairing 配襯食品
Creamy rice, fish and white meats on the grill or with sauce and sheep or goat cheese
意大利飯、烤魚、烤白肉、羊肉、羊奶芝士
Service 飲用溫度
16 – 18°C