Discover the Captivating Essence of La Locomotora Reserva Limitada 2014
Unveiling the Hidden Gem of Rioja, Spain
Indulge in the enchanting allure of La Locomotora Reserva Limitada 2014, a masterpiece that exemplifies the artistry of winemaking. With its roots firmly planted in the renowned region of Rioja, Spain, this extraordinary wine captivates the senses and transports you to a realm of pure pleasure. Crafted with utmost dedication, this limited-edition gem is a testament to the winemaker's passion and expertise. Let us embark on a delightful journey to explore the exceptional qualities that make La Locomotora Reserva Limitada 2014 truly extraordinary.
The Essence of La Locomotora Reserva Limitada 2014
A Tempranillo Marvel from Briones
La Locomotora Reserva Limitada 2014 is a pure expression of the esteemed Tempranillo grape variety sourced from the mesmerizing vineyards of Briones. With vine age averaging 45 years, these vines have weathered the test of time, their roots deeply embedded in the terroir. Every sip of this wine encapsulates the spirit of these majestic vines, telling a story of resilience and character.
An Artisanal Winemaking Process
To ensure the utmost authenticity and quality, La Locomotora Reserva Limitada 2014 undergoes a meticulous winemaking process. The grapes, carefully selected at their peak of ripeness, are fermented, destemmed, and uncrushed in stainless steel vats using indigenous yeasts. This traditional approach preserves the essence of the fruit and allows its true nature to shine through.
A Symphony of Maturation
Matured with precision, La Locomotora Reserva Limitada 2014 gracefully ages in French oak barrels for two years, followed by an additional period of maturation in the bottle for over two years. These French oak barrels, exclusively sourced from the prestigious François Frères cooperage, lend their distinguished touch to this exceptional wine. Renowned wineries such as D.R.C. and LEROY in Burgundy also entrust their wines to these revered barrels. The result is a harmonious symphony of flavors and aromas, testament to the meticulous craftsmanship bestowed upon this masterpiece.
Tasting Notes: A Journey of Sensory Delight
A Kaleidoscope of Aromas and Flavors
La Locomotora Reserva Limitada 2014 greets the palate with a mesmerizing array of ripe black fruits, evoking a sense of wonder with every sip. The captivating aroma dances with hints of baking spices and a delicate touch of smokiness. Its velvety texture and well-integrated tannins create a luxurious mouthfeel, showcasing the artistry and finesse behind this wine. With a dry finish that lingers on the palate, La Locomotora Reserva Limitada 2014 leaves a lasting impression of elegance and refinement.
A Rare and Exclusive Production
Limited to just 8,500 bottles, La Locomotora Reserva Limitada 2014 is a true rarity. This exclusivity ensures that each bottle receives the utmost care and attention, making it a coveted treasure for wine enthusiasts and collectors alike. Each sip of this remarkable vintage is an invitation to immerse yourself in the unique story that unfolds within every bottle.
Acclaimed Recognition
Luis Gutierrez of Wine Advocate awarded La Locomotora Reserva Limitada 2014 a score of 89, a testament to its exceptional quality. This accolade further solidifies its standing among the finest wines in the world. The recognition from industry experts affirms the craftsmanship and dedication that goes into every aspect of its creation.
Food Pairing: Elevating Culinary Experiences
Unlocking the Culinary Symphony
La Locomotora Reserva Limitada 2014 harmonizes flawlessly with an array of gastronomic delights. Its versatility allows for delightful pairings with roasted duck, gamebird soups, and the timeless classic of sweet and sour pork. The depth and complexity of this wine elevate each dish, creating a culinary symphony that delights the senses.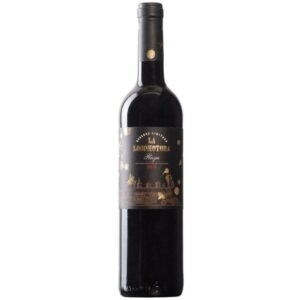 A Journey Beyond Expectations
Embrace the Unforgettable
La Locomotora Reserva Limitada 2014 invites you to embark on an unforgettable journey, where the artistry of winemaking converges with the bountiful offerings of nature. From the vineyards of Briones to the French oak barrels of François Frères, this wine showcases a symphony of flavors and aromas that will leave an indelible mark on your palate. With its limited production and unwavering commitment to excellence, La Locomotora Reserva Limitada 2014 stands as a testament to the art of winemaking and an invitation to savor life's most extraordinary moments. Raise your glass and allow this remarkable vintage to transport you to a realm of pure enchantment.
Service Temperature: 16 – 18°C
Please note that La Locomotora Reserva Limitada 2014 is best enjoyed when served at a temperature between 16 and 18 degrees Celsius. This optimal serving condition ensures that you experience the full spectrum of its aromas, flavors, and textures, further enhancing your appreciation of this exceptional wine.
La Locomotora Reserva Limitada 2014
Region 地區
Rioja, Spain 里奧哈, 西班牙
Grape Variety 葡萄品種
100% Tempranillo 丹魄
Age of the vines 葡萄籐樹齡
45 years old 年
Maturation 陳釀
Matured in French oak barrels for 2 years, in bottle for over 2 years.
在法國橡木桶中陳釀 2 年,瓶內陳釀 2 年以上。
*只採用法國勃艮第最頂級酒莊 D.R.C 及 LEROY 御用的 François Frères 法國橡木桶
*François Frères French barrels only, which are used by the top D.R.C. and LEROY winieres
in Burgundy
Tasting Notes 酒評
Pure Tempranillo from Briones. Fermented, destemmed and uncrushed in stainless steel with
indigenous yeasts. Matured in French barriques, 30% of them new, for two years. Only 8,500
bottles were produced. It's grapey and juicy, with high ripeness, notes of plums and raisins.
Faintly spicy with fine-grained tannins and a dry finish. Bottled in September 2016.
散發驚人的成熟黑色水果果香,並帶有焗烤和辛辣的味道,入口柔滑細膩,中期水果及煙熏香
氣混合天鵝絨般柔軟的單寧。 該年份只生產 8500 支。
Score: 89 Luis Gutierrez
Wine Advocate (235), Feb 2018
Food Pairing 配襯食品
Roasted duck, gamebird soups, sweet and sour pork 烤鴨,野味禽類燉湯,糖醋排骨
Service 飲用溫度
16 – 18°C