Unveiling the Extravagance: Viña Quintay Syrah 2015
Discover a wine that tantalizes the senses and transports you to a realm of deep red hues and luscious flavors. Viña Quintay Syrah 2015, a proud creation of Wine Maven, beckons wine enthusiasts to embark on an extraordinary journey. With its captivating blend of intense spices, native red fruits, and a refreshing twist, this Syrah Clava unveils an extravagant variety that is as engaging as it is unique.
The Tale of Seductive Aromas and Flavorful Notes
Delving into a Symphony of Aromas
As you lift your glass of Viña Quintay Syrah 2015, a symphony of tantalizing aromas fills the air. The deep red and purple shades of this exquisite wine mirror the richness and depth that lie within. Taking a moment to breathe in its essence, you are greeted by an intense and spicy aroma, reminiscent of the beloved ingredients found in gastronomy. Think of the allure of black pepper, the subtle allure of cloves, and the earthy charm of bay leaf. These familiar scents harmonize to create a perfect blend that awakens the senses and piques the curiosity.
A Melange of Tart Red Fruits and Native Flora
Just as every great story has layers waiting to be unraveled, so does the Viña Quintay Syrah 2015 reveal its complexities with each sip. The first taste introduces you to the vibrant tartness of red fruits, a characteristic hallmark of our native flora. Imagine biting into juicy raspberries and succulent cherries, their tangy sweetness dancing on your palate. These indigenous treasures bring forth a freshness that evokes the untamed beauty of the land from which they originate.
The Artistry of Viña Quintay Syrah 2015
A Testament to Craftsmanship and Dedication
Viña Quintay Syrah 2015 is not just a wine; it is a testament to the artistry and dedication of the master winemakers behind its creation. Handcrafted with precision and care, this remarkable vintage embodies the rich viticultural heritage of the Quintay Valley. The winemakers' commitment to excellence and their deep understanding of the grape's potential are evident in every bottle.
A Perfect Companion to Culinary Adventures
Much like the finest works of art, Viña Quintay Syrah 2015 is meant to be savored and celebrated. Its versatility makes it a perfect companion to an array of culinary adventures. Picture yourself indulging in a succulent steak, perfectly seared to juicy perfection, or savoring a hearty lamb stew on a chilly evening. The robust and expressive nature of this wine effortlessly elevates every dining experience, enhancing the flavors and creating moments to be cherished.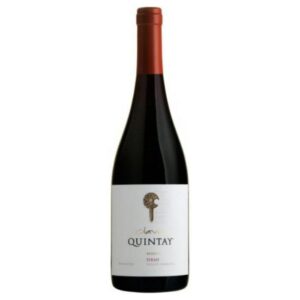 A Symphony of Pairings
Pairing possibilities are limited only by your imagination. For those who appreciate the fusion of flavors, this Syrah Clava complements an array of dishes. Rich, creamy cheeses, such as aged Gouda or creamy Camembert, find their match in the robust character of Viña Quintay Syrah 2015. Delicate yet spicy dishes, such as Moroccan tagines or Indian curries, are beautifully balanced by the wine's intricate flavors. The choices are endless, and each pairing invites you to explore new culinary frontiers.
Unleash Your Senses with Viña Quintay Syrah 2015
In the realm of fine wines, Viña Quintay Syrah 2015 stands as an embodiment of luxury and exploration. From its captivating aromas to its vibrant flavors, this extraordinary creation from Wine Maven unravels a story that engages the senses and captivates the palate. With each sip, you embark on a journey through the Quintay Valley, where craftsmanship and dedication merge to create a symphony of taste. Let Viña Quintay Syrah 2015 be your guide, unlocking the secrets of an extravagant variety that leaves a lasting impression. Cheers to the allure of this remarkable wine and the unforgettable moments it brings to life.