Elevate Your Style and Comfort with the "Life Happens. Wine Helps." Long Sleeve T-Shirt
Description
Indulge in the perfect blend of style, comfort, and self-expression with the captivating "Life Happens. Wine Helps." Long Sleeve T-Shirt. Crafted from premium quality materials, this shirt embraces your love for wine and adds a touch of sophistication to your wardrobe. Whether you're a wine connoisseur or simply appreciate the finer things in life, this exquisite long sleeve t-shirt is designed to enhance your fashion statement while keeping you cozy.
Unmatched Comfort and Durability
The Ultimate in Softness and Longevity
Slip into the unmatched comfort of the "Life Happens. Wine Helps." Long Sleeve T-Shirt. Made from ultra-smooth American Apparel cotton, this shirt offers a luxurious feel against your skin, making it a delight to wear throughout the day. The fabric's exceptional softness ensures maximum comfort, allowing you to relax and unwind in style.
Shield Yourself from the Elements
As the seasons change, the need for reliable protection becomes essential. Fear not, for this long sleeve t-shirt has got you covered. With its long sleeves, it acts as a shield against chilly winds and cooler temperatures. Embrace the cozy warmth and protect yourself from the elements, all while looking effortlessly stylish.
A Flair for Fashion
The "Life Happens. Wine Helps." Long Sleeve T-Shirt boasts cuffed hands, adding a touch of elegance and a dash of flair to your ensemble. The tapered look created by the cuffed hands not only adds visual interest but also elevates your overall style. Feel confident and fashionable as you make a statement with every gesture.
Superior Quality and Ethical Sourcing
Made to Last
Crafted with meticulous attention to detail, this long sleeve t-shirt features double stitching that ensures long-lasting durability. From everyday wear to exciting adventures, this shirt can handle it all. Invest in a garment that can withstand the test of time, allowing you to enjoy its exceptional quality for years to come.
Ethically Sourced for Peace of Mind
At Wine Maven, we believe in responsible production practices. The blank products stocked in the US are proudly made in the USA, ensuring they are sweatshop-free. Similarly, our blank products stocked in the EU are thoughtfully sourced from around the world. With the "Life Happens. Wine Helps." Long Sleeve T-Shirt, you can embrace your style with a clear conscience, knowing that ethical standards have been met.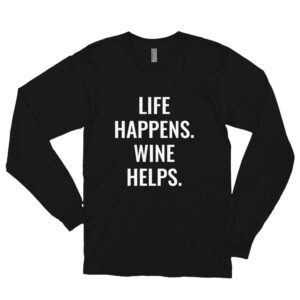 Embrace the Spirit of "Life Happens. Wine Helps."
Unleash Your Passion for Wine
The "Life Happens. Wine Helps." Long Sleeve T-Shirt is more than just a garment; it's an expression of your love for wine. Whether you enjoy a glass of wine after a long day, savor the complexities of different varietals, or find joy in the social aspects of wine culture, this shirt symbolizes your passion and appreciation for the art of winemaking.
A Conversation Starter
This unique long sleeve t-shirt sparks conversations and creates connections. Wear it to wine tastings, social gatherings, or simply as a fashion statement, and watch as fellow wine enthusiasts are drawn to strike up a conversation. Share your experiences, exchange recommendations, and connect with like-minded individuals, all while exuding confidence in your fashionable attire.
A Thoughtful Gift
Looking for the perfect gift for the wine lover in your life? Look no further than the "Life Happens. Wine Helps." Long Sleeve T-Shirt. Surprise your friend, partner, or family member with this stylish and meaningful garment, and let them proudly showcase their passion for wine. It's a gift that not only demonstrates your thoughtfulness but also embodies the shared moments and cherished memories you've created together.
Embrace Style, Comfort, and Wine
Unleash Your Inner Wine Maven
Elevate your wardrobe with the captivating "Life Happens. Wine Helps." Long Sleeve T-Shirt. Its exceptional comfort, impeccable craftsmanship, and eye-catching design make it the perfect choice for wine enthusiasts and fashion-conscious individuals alike. With this shirt, you can confidently embrace the beauty of life's moments, knowing that wine is there to enhance the experience. Let your style speak volumes and join the ranks of those who understand that, indeed, life happens, and wine helps.