Discover the Exquisite Charm of Manuel Manzaneque Chardonnay 2007
Are you ready to embark on a captivating journey through the realms of fine wine? Brace yourself, because Manuel Manzaneque Chardonnay 2007 is about to take your taste buds on an extraordinary adventure. Crafted with utmost care and dedication, this exceptional wine showcases a perfect harmony of flavors and aromas that will leave you enchanted. Let's delve into the world of Manuel Manzaneque Chardonnay 2007 and uncover the secrets that make it a true masterpiece.
Aromatic Symphony: Unveiling the Intensity
Intense Aromas that Dance on Your Palate
From the very first encounter, Manuel Manzaneque Chardonnay 2007 entices with its captivating and intense aroma. The primary notes take center stage, with the delightful fragrance of green apples and delicate floral tones captivating your senses. As you explore further, a symphony of citrus fruits, including grapefruit, lemon, and tangerine, gracefully joins the chorus. And there's more—the tropical fruit notes come alive, asserting their dominance and creating a tantalizing fusion of scents. As you breathe in the bouquet, you'll also catch a hint of vanilla, balsamic undertones, and a touch of spice, evoking a sensory experience unlike any other.
A Taste of Elegance: Pure Pleasure in Every Sip
Fresh, Pleasurable, and Flavorful Delights
Prepare yourself for an extraordinary taste experience as you take the first sip of Manuel Manzaneque Chardonnay 2007. Its freshness and pleasantness instantly captivate your palate, while the wine's full-bodied character adds a delightful touch of indulgence. The tropical fruit flavors steal the spotlight, tantalizing your taste buds and revealing the wine's true essence. But the magic doesn't end there. Delve deeper into the layers of this remarkable Chardonnay, and you'll uncover the toasty undertones reminiscent of sponge cake, freshly baked bread rolls, delicate hints of vanilla, and a subtle touch of butter. The wine's velvety texture owes its richness to the meticulous work done with the thin lees, resulting in a luscious and oily mouthfeel.
A Perfect Balance, a Memorable Aftertaste
One of the defining features of Manuel Manzaneque Chardonnay 2007 is its remarkable balance. The interplay between the fruit and the subtle wood nuances creates a harmonious symphony on your palate. The acidity and alcohol levels are perfectly aligned, complementing each other and enhancing the overall drinking experience. As you savor the last drop, a long and incredibly pleasant aftertaste lingers, ensuring that the memory of this exceptional wine stays with you for a lifetime.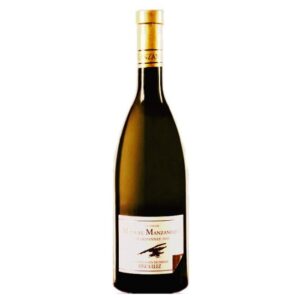 Unveiling the Magic of Manuel Manzaneque Chardonnay 2007
Manuel Manzaneque Chardonnay 2007 is a testament to the artistry and passion of its creators. From the vibrant and intense aromas to the delightful and flavorful notes that dance on your tongue, every sip of this wine is an invitation to immerse yourself in a world of unparalleled elegance and taste. With its perfect balance, impeccable craftsmanship, and a symphony of flavors, Manuel Manzaneque Chardonnay 2007 stands as a shining example of what a truly remarkable wine can be. Elevate your wine experience and embark on an unforgettable journey with Manuel Manzaneque Chardonnay 2007 – a true masterpiece of the vineyard.