Unveiling the Timeless Elegance of Manuel Manzaneque Chardonnay Especial 2007
Step into a world where each sip is an exquisite journey through time and taste. Welcome to the realm of Manuel Manzaneque Chardonnay Especial 2007, an unparalleled gem crafted by the passionate artisans at Manuel Manzaneque Winery. In this captivating product description, we will unravel the story of this extraordinary wine, delving into its meticulous production process, the essence of its exceptional grapes, and the enchanting flavors that await within each bottle.
The Artistry Behind Manuel Manzaneque Chardonnay Especial 2007
A Symphony of Select Vineyards and Exquisite Bunches
At Manuel Manzaneque Winery, perfection is not merely a goal—it is a way of life. With unwavering dedication, they bring forth the Manuel Manzaneque Chardonnay Especial 2007 exclusively during exceptional vintage years. Each bottle, a testament to their meticulous selection process, bears the distinction of being one of only 2000 individually numbered treasures.
Embrace the Unforgettable: A Wine for the Ages
As you embark on a journey through time with Manuel Manzaneque Chardonnay Especial, you'll discover a wine that is not bound by the constraints of ordinary existence. It unveils its grandeur now and, as years pass, unravels an ever-evolving tapestry of complexity and wonder. This Chardonnay is a remarkable example of a laying-down wine—a wine that surprises and entices at the very moment you uncork it, yet continues to delight with an indescribable vivacity as it gracefully ages.
The Elixir of Maturity: Fermentation and Maturation
French Oak Barrels: The Cradle of Excellence
A tribute to the rich heritage of exceptional white wines, Manuel Manzaneque Chardonnay Especial 2007 undergoes a meticulously crafted journey of fermentation and maturation. In the embrace of the finest French oak barrels, this exceptional vintage is nurtured for a full year. The oak imparts its refined essence, lending the wine a symphony of delicate notes and enhancing its depth, character, and finesse.
A Timeless Tale of Expertise and Dedication
Within the cellars of Manuel Manzaneque Winery, a long and storied history is woven into every bottle of Manuel Manzaneque Chardonnay Especial 2007. The masterful winemakers, guided by their unwavering commitment to excellence, have skillfully refined the art of crafting white wines for aging. With each passing year, their expertise flourishes, and the resulting elixirs embody the culmination of their dedication and passion.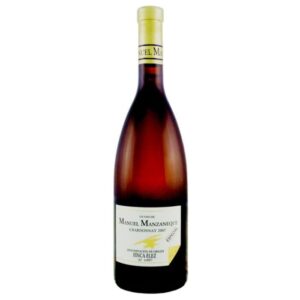 Unleashing the Enchantment: A Symphony of Flavors
A Captivating Prelude: The Aroma
As you approach your glass, the aroma of Manuel Manzaneque Chardonnay Especial 2007 dances delicately through the air, enchanting your senses. The wine's bouquet is a harmonious marriage of fragrances, ranging from the crisp zest of citrus fruits to the warm embrace of toasted almonds. This symphony of scents serves as a tantalizing prelude to the sensory voyage that lies ahead.
The Palate's Overture: Delightful Complexity
With each sip, Manuel Manzaneque Chardonnay Especial 2007 takes you deeper into a world of remarkable complexity. The palate is caressed by a delicate balance of flavors—sublime notes of ripe pineapple intertwine with hints of buttery vanilla, while a touch of honeyed sweetness dances alongside a refreshing undercurrent of minerality. The wine's impeccable structure and velvety texture invite you to savor each nuance, creating a truly unforgettable experience.
A Timeless Legacy: Manuel Manzaneque Chardonnay Especial 2007
Step into the realm of Manuel Manzaneque Chardonnay Especial 2007, where passion, artistry, and dedication intertwine to create an extraordinary wine. This exclusive vintage, born from the finest vineyards and handpicked bunches, carries within it the soul of its creators. From the moment it graces your palate, it unveils a journey through time—a symphony of flavors that evolves and enchants with every passing year. Delight in this rare gem, embrace its allure, and experience the timeless legacy of Manuel Manzaneque Chardonnay Especial 2007.