Unveiling the Exquisite Charm of Paisajes – Cecias 2011
Indulge in a captivating journey through the flavors of Rioja, Spain with Paisajes – Cecias 2011. This remarkable wine is a harmonious blend of history, craftsmanship, and nature's bounty. With its bright ruby hue and a nose that whispers secrets of red and black fruit, accented by a delicate touch of integrated wood, Cecias 2011 is a true masterpiece.
Rediscovering the Terroir
A Symphony of Soil: Rioja, Spain
Region: Rioja, Spain
Nestled in the heart of Rioja, Spain, the birthplace of distinguished wines, Cecias 2011 pays homage to its terroir. The mixed soils, composed of limestone and parts of slate, lend complexity and character to the grapes, ultimately translating into a captivating sensory experience.
The Essence of Garnacha
Embracing the Soul of 100% Garnacha
Grape Variety: 100% Garnacha
Cecias 2011 embodies the essence of the Garnacha grape, showcasing the mastery of winemaking honed over generations. The vines, aged between 85 and 90 years, imbue the wine with a depth of flavor and a profound sense of history. With each sip, you'll embark on a remarkable journey through time.
The Artistry of Wine Making
Crafted with Care and Precision
Age of the Vines: 85 – 90 years old
The creation of Cecias 2011 is a labor of love, beginning with the careful hand-harvesting of the grapes. Fermented in stainless steel tanks under controlled temperatures, the grapes undergo daily pump overs, ensuring optimal extraction of flavors. This meticulous process culminates in barreling for 20 days, followed by 16 months of maturation in new Allier French oak barrels. These barrels, used by esteemed wineries such as D.R.C. and Leroy, infuse the wine with elegance and finesse.
Captivating the Senses
A Symphony of Flavors and Aromas
Tasting Notes: A Harmony of Nature's Gifts
With its enchanting deep ruby color, Cecias 2011 unveils a symphony of aromas. The subtle and harmonious bouquet of red and black fruit dances on the palate, complemented by delicate hints of integrated wood. Juicy and polished, this wine delights with its soft texture and slightly warm finish. Each sip tells a story of dedication and craftsmanship, inviting you to savor the moment.
A Jewel Recognized Worldwide
Selected as designated wine on the wine list of El Bulli, one the world´s best Spanish restaurants of 3 stars Michelin for 5 consecutive years
Cecias 2011 has earned its place among the world's finest wines. Notably, it graced the wine list of El Bulli, a renowned three-Michelin-star Spanish restaurant, for an impressive five consecutive years. This accolade speaks volumes about the wine's exceptional quality and the admiration it garners from connoisseurs and experts alike.
Perfect Pairings
Elevating Culinary Experiences
Food Pairing: Unleashing Culinary Harmony
Cecias 2011 elevates the dining experience with its versatile nature. Whether paired with a flavorful risotto, roasted or grilled veal, or succulent red meat, this wine complements a range of dishes, enhancing their taste profiles. Embrace the pleasure of culinary harmony as you indulge in the perfect pairing with Cecias 2011.
The Art of Service
Enhancing the Delightful Journey
Service: Recommended Temperature 15 – 17°C
To fully appreciate the nuances of Cecias 2011, serve it at a temperature between 15 and 17 degrees Celsius. This ideal serving temperature ensures that every sip unfolds a tapestry of flavors, enhancing your delightful journey through the world of Rioja wines.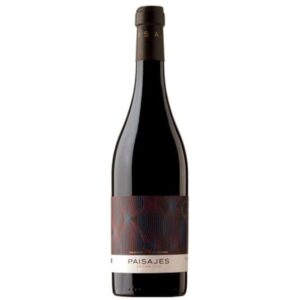 Embrace the Splendor of Cecias 2011
Paisajes – Cecias 2011 is more than a wine; it's an embodiment of passion, tradition, and the beauty of nature. With its captivating flavors, elegant structure, and illustrious history, this wine stands as a testament to the artistry of winemaking. Allow yourself to be transported to the picturesque vineyards of Rioja, Spain, as you savor the magnificence of Cecias 2011.
Paisajes – Cecias 2011
Region 地區
Rioja, Spain 里奧哈, 西班牙
Soil 土壤
Mixed soil, limestone and parts of slate 混合土壤、石灰岩、石板
Grape Variety 葡萄品種
100% Garnacha 歌海娜
Age of the vines 葡萄籐樹齡
85 – 90 years old 年
Wine Making 製造程序
Harvested by hand, the grapes are fermented in stainless steel tanks under controlled temperature and daily pump overs.
Barreling for 20 days.
Matured for 16 months in new Allier French oak barrels with 3 rackings.
在法國橡木桶中陳釀 16 個月
Francois Freres oak barrels used by the Finest French Wineries D.R.C. and Leroy
採用法國勃艮地最頂級酒莊 D.R.C.及 LEROY 御用的 Francois Freres 橡木桶.
Tasting Notes 酒評
Bright ruby colour.
Subtle and harmonious nose of red and black fruit accented by nicely integrated
wood.
The juicy palate is polished and soft, and has a slightly warm finish.
深石榴紅色,散發豐富明亮、複雜及成熟的黑色水果香味,如無花果,並夾雜些許胡椒味道,口感豐滿,
清新而成熟,質感細膩,單寧流暢柔滑,滲透剛熟成的黑色水果和香料芳香。
*Selected as designated wine on the wine list of El Bulli, one the word's best Spanish restaurants of 3 stars Michelin for 5 consecutive years
*連續 5 年榮獲世界最佳餐廳 : 三星西班牙餐廳 El Bulli 首選為酒單上的指定用酒
Food Pairing 配襯食品
Risotto, roasted or grilled vail, red meat
意大利調味飯,烤小牛肉,野味禽類菜餚
Service 飲用溫度
15 – 17°C