Unveiling the Magic: Sparkling Chardonnay Brut N.V.
Imagine a radiant golden elixir that sparkles like the first rays of sunlight, captivating your senses with its enchanting aroma and tantalizing flavors. Get ready to embark on a journey of taste and elegance with our exceptional creation—the Sparkling Chardonnay Brut N.V. This wine masterpiece, crafted with utmost precision and passion, showcases the remarkable finesse and allure of Chardonnay grapes. Let us delve into the intriguing story behind this exquisite gem, revealing its origin, winemaking process, and the delightful symphony of flavors that awaits.
Origin and Appellation
A Toast to Tradition: Burgundy, France
In the heart of the illustrious Burgundy region in France, our Sparkling Chardonnay Brut N.V. is born. Known for its centuries-old winemaking heritage, Burgundy has established itself as an epitome of excellence in producing extraordinary wines. With its unique terroir, climate, and expertise passed down through generations, this region yields grapes of unparalleled quality. The Sparkling Chardonnay Brut N.V. proudly bears the prestigious regional appellation of Bourgogne, guaranteeing its authenticity and remarkable character.
Grape Variety and Winemaking
Where Perfection Meets Passion: 100% Chardonnay
The soul of our Sparkling Chardonnay Brut N.V. lies in its exceptional grape variety—100% Chardonnay. These carefully selected grapes, handpicked at the peak of their maturity, bring forth a symphony of delightful flavors and a lively freshness. To preserve the inherent acidity and vibrancy, the grapes are harvested at low maturation levels, ensuring a harmonious balance in every sip. This approach, along with the expertise of our winemakers, sets the stage for the creation of this remarkable wine.
A Journey of Transformation
Once the Chardonnay grapes have been harvested, our winemakers embark on a meticulous journey of transformation. Through a carefully orchestrated process, these grapes are transformed into a dazzling sparkling wine that captures the essence of elegance. Delicate bubbles, reminiscent of tiny pearls, dance gracefully within the glass, creating a mesmerizing visual spectacle. With every sip, you'll discover a symphony of flavors—a delicate fusion of linden-tree, mango, peach, and a hint of citrus, harmonizing into a truly enchanting experience.
Tasting Notes and Food Pairing
A Symphony of Flavors
As you raise your glass of Sparkling Chardonnay Brut N.V., prepare to be transported to a world of pure delight. The radiant golden hue entices the eye, while the delicate bubbles tantalize the palate. Each sip reveals a nuanced dance of linden-tree, mango, peach, and a touch of citrus, intertwining harmoniously and leaving a lasting impression. The impeccable balance of acidity and freshness elevates the tasting experience to new heights, making this sparkling gem an irresistible choice for wine enthusiasts.
A Culinary Affair: Perfect Pairings
Whether you're savoring a delightful meal or seeking a splendid aperitif, our Sparkling Chardonnay Brut N.V. is the perfect companion. Its versatility shines through as it gracefully complements roasted fish, shellfish, and a myriad of culinary creations. The lively acidity and elegant flavors enhance the natural essence of seafood, while also providing a refreshing contrast. Furthermore, its crisp and invigorating character makes it an excellent choice as an aperitif, setting the stage for a memorable dining experience.
Service and Aging Potential
A Toast to the Present and Future
The allure of our Sparkling Chardonnay Brut N.V. lies in its ability to be enjoyed in the moment, or treasured for years to come. Serve this exquisite wine chilled, allowing its vibrant character to unfold with each sip. Whether you decide to indulge in it now or choose to cellar it for a few years, the Sparkling Chardonnay Brut N.V. will captivate your senses and make every occasion truly special.
A Captivating Symphony: Sparkling Chardonnay Brut N.V.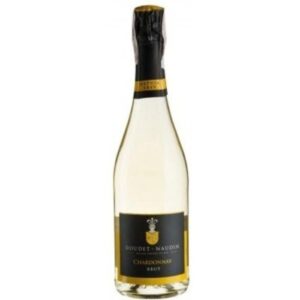 In the realm of fine wines, the Sparkling Chardonnay Brut N.V. stands tall, radiating elegance and enchantment. Crafted with passion and dedication, this exceptional creation takes you on a journey through the vineyards of Burgundy, capturing the essence of its terroir in every sip. With its delicate bubbles, lively freshness, and delightful flavors, it leaves an indelible mark on your palate. Elevate your dining experience, celebrate special moments, and embark on a captivating journey with our Sparkling Chardonnay Brut N.V.—a true masterpiece of oenological artistry.
Sparkling Chardonnay Brut N.V.
Region 地區
Burgundy, France 勃艮地, 法國
Controlled Appellation 地理位置
Regional Appellation of Bourgogne
Grape Variety 葡萄種類 : 100% Chardonnay
Wine Making 製造程序
Grapes are picked at low maturation in order to keep acidity and freshness (at least 2 weeks
before the CHARDONNAY dedicated to the VIN DE FRANCE CHARDONNAY DOUDET
NAUDIN still wine).
Tasting Notes 酒評
Light golden colour. Nuances and taste of linden-tree, mango, peach and some citrus.
Delicate bubbles.
淡金色,有椴樹、芒果、白桃及柑橘等香味
Food Pairing 配襯食品
Roasted fish, shellfish, or aperitif
烤魚、貝殼類、亦可作開胃酒
Service 飲用溫度 : To be served chilled 冷藏飲用
To drink now or to keep 2 or 3 years. 可以即時飲用或存放 2-3 年