Discover the Enchanting Symphony of Flavors with Tombacco – Rosso, DOC Sicilia
Unveil the captivating allure of Tombacco – Rosso, a distinguished Italian red wine hailing from the sun-kissed vineyards of Sicilia. Crafted with expertise and passion, this exquisite wine entices the senses with its intense, aromatic, and velvety ruby red nectar. Enveloped within an enchanting jewel-like bottle, Tombacco – Rosso embodies the essence of luxury and organic winemaking, delivering a sensory journey that transcends the ordinary.
A Symphony of Sensory Delights
Embrace the Visual Elegance
Tombacco – Rosso presents itself in a resplendent robe of deep ruby red, accentuated by delicate garnet hues. The visually captivating coloration sets the stage for the enchanting symphony of flavors that awaits within the bottle.
An Aroma to Enchant the Senses
Immerse yourself in the elegantly fruity bouquet of Tombacco – Rosso. The enticing fragrance unfolds with notes of luscious cherry and plum, accompanied by the spirited presence of small red fruits. A touch of the Mediterranean emerges, adding hints of myrtle, juniper berries, and subtle vegetal tones. Delicate nuances of pepper and bent tantalize the senses, while toasted notes of sweet spices, cocoa, tobacco, mint, and graphite dance harmoniously in the background.
A Palate of Pure Indulgence
Prepare to be seduced by the luxurious mouthfeel of Tombacco – Rosso. With great thickness and a pleasing freshness, this wine envelops the palate in a velvety embrace. Impeccably balanced tannins create a seamless integration with the discreet flavors, resulting in a sensory symphony that delights the senses. The wine culminates in a mineral finish, rejuvenating the palate with balsamic sensations.
Pairing Perfection and Beyond
An Affair with Culinary Excellence
Tombacco – Rosso beckons a culinary adventure that is as daring as the Roman bacchanals of old. This exquisite wine finds its perfect match in elaborate, spicy, and wild meats, elevating their flavors to new heights. As you indulge in each sip, the intricate layers of complexity intertwine with the savory dishes, creating an unforgettable dining experience. Moreover, the versatility of Tombacco – Rosso shines through, making it equally enjoyable when savored in solitude, providing a moment of pure meditation accompanied by a gentle breeze.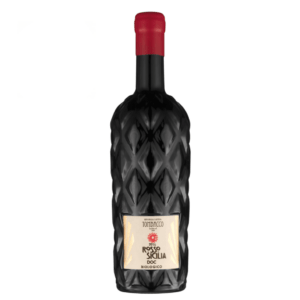 Elevate Your Wine Experience with Tombacco – Rosso
In the realm of Italian red wines, Tombacco – Rosso stands tall as a testament to craftsmanship, authenticity, and organic winemaking. From its visually captivating appearance to the symphony of aromas and flavors that unfold with each sip, this wine transports you to the sun-drenched vineyards of Sicilia. Let Tombacco – Rosso be your companion on a sensory journey that transcends boundaries and immerses you in a world of pure indulgence. Embark on an extraordinary adventure, where elegance meets intensity, and every glass reveals the timeless beauty of Italian winemaking.
Tombacco – Rosso, DOC Sicilia
The Sicilian sun warms and matures these grapes with their extraordinary character. With slow rhythms and just a few gestures these gifts of nature are transformed into an intense, aromatic and soft ruby red nectar, enclosed in a jewel of a bottle. An organic wine that's out of the ordinary.
Colour
Deep ruby red with light garnet hues.
Bouquet
Elegantly fruity of cherry and plum, small spirited red fruits, light presence of vegetal tones of Mediterranean zones, myrtle and juniper berries. Hints of pepper and bent nuances. The toasted notes of sweet spices, cocoa, tobacco, mint and graphite are well present.
Flavour
Mouth of great thickness, soft and at the same time pleasantly fresh. Good tannins in balance with a discreet flavour. Mineral finish and refreshed by balsamic sensations.
Food Pairing
The perfect match is an elaborate, spicy and wild meat, as was used in Roman bacchanals. A compless wine, it is also recommended alone, in meditation with the company of a breeze.