Unveiling the Enchanting Elixir: Tombacco – Rosso Riserva
Prepare to embark on a sensory voyage as we explore the captivating world of Tombacco – Rosso Riserva, DOC Biferno, 750ml. With its deep ruby red color and elegant grenade red nuances, this distinguished wine entices both the eyes and the palate. Let us delve deeper into its enticing aroma, velvety texture, and remarkable flavors, all culminating in a delightful experience that will leave you craving for more.
An Aromatic Symphony for the Senses
The Alluring Scent of Spices and Vanilla Cinnamon
As you bring the glass of Tombacco – Rosso Riserva closer to your nose, the intensity of its aroma envelops you. The air becomes filled with a symphony of scents, boasting an impressive range of nuances. Amongst them, you'll discover enchanting notes of spices, vanilla cinnamon, and a subtle hint of wood. Each inhalation transports you to a realm of culinary delight, awakening memories of warm and inviting kitchens filled with aromatic spices.
A Palate-Pleasing Journey Begins
As the velvety elixir touches your lips, the journey of flavors commences, painting a vivid picture on your palate. The initial sip of Tombacco – Rosso Riserva greets your taste buds with strength and intensity, embracing your senses with its robust character. Yet, as you savor this remarkable wine, you'll discover that its smoothness and silkiness effortlessly dominate. The presence of tannins remains delicate, ensuring a harmonious balance that captivates your taste buds.
The Grand Finale: Fullness, Roundness, and Exquisite Aftertaste
With each passing moment, Tombacco – Rosso Riserva reveals another facet of its allure. The grand finale unfolds, as the wine showcases its fullness and roundness, supported by a vibrant acidity that invigorates the palate. The aftertaste is nothing short of exceptional, leaving pleasant hints of cherry, plum, and delicate vanilla nuances lingering on your tongue. It's a symphony of flavors that lingers long after the glass is empty, inviting you to embrace the essence of Rosso Riserva.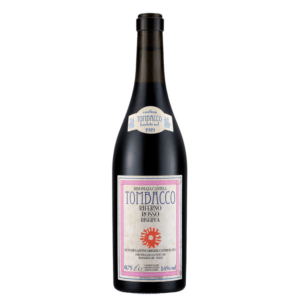 A Symphony of Flavors, Unleashed: Tombacco – Rosso Riserva
In the realm of wines, Tombacco – Rosso Riserva reigns supreme, mesmerizing wine enthusiasts with its profound depth and remarkable finesse. From the captivating color to the ethereal aroma and velvety texture, every sip of this exceptional wine is an invitation to indulge in a symphony of flavors. As the last drop leaves your glass, you are left with an unforgettable aftertaste, cherishing the hints of cherry, plum, and vanilla that dance upon your palate. Tombacco – Rosso Riserva is more than a wine; it is an experience, a testament to the passion and artistry that goes into crafting each bottle. Let your senses be captivated by this extraordinary elixir and elevate your appreciation for the world of wine.