Unveiling the Essence of Viña Quintay Pinot Noir Rosé 2013
Allow us to transport you to a sensory journey as we dive into the captivating world of Viña Quintay Pinot Noir Rosé 2013. This remarkable wine encapsulates the epitome of elegance and finesse, delivering a symphony of flavors that will delight your palate. With each sip, you'll be greeted by a harmonious blend of strawberries, plums, and delicate spice hints, harmonizing perfectly to create an unforgettable experience.
The Story Behind Viña Quintay Pinot Noir Rosé 2013
A Testament to Tradition and Craftsmanship
At the heart of Viña Quintay lies a deep-rooted commitment to preserving tradition and showcasing the true essence of winemaking. The Pinot Noir Rosé 2013 stands as a testament to their unwavering dedication to crafting exceptional wines that represent the variety at its finest.
A Symphony of Flavors
As you embark on this delightful adventure, you'll be welcomed by the invigorating presence of strawberries, lending a vibrant and refreshing character to the wine. The plums add a touch of lusciousness, enhancing the depth and complexity of each sip. To complement this orchestra of flavors, delicate spice hints dance on your taste buds, offering a tantalizing touch that elevates the overall experience.
The Palate-Pleasing Journey
Smoothness and Elegance in Perfect Balance
What sets Viña Quintay Pinot Noir Rosé 2013 apart is its impeccable balance. On the palate, you'll discover a harmonious interplay between acidity, sweetness, and persistence. The wine's smoothness glides effortlessly, leaving a lasting impression that lingers with every sip. This young and brilliant creation truly captures the essence of the Pinot Noir variety, making it a standout choice for wine enthusiasts.
Versatility in Every Glass
Whether you're looking for the perfect aperitif to kickstart an evening or a companion to accompany your favorite desserts, Viña Quintay Pinot Noir Rosé 2013 is an excellent choice. Its versatility shines through, adapting effortlessly to a variety of culinary delights. Picture a Thanksgiving feast with a traditional turkey, where this rosé perfectly complements the rich flavors. Even roasted octopus finds a worthy companion in this exceptional wine.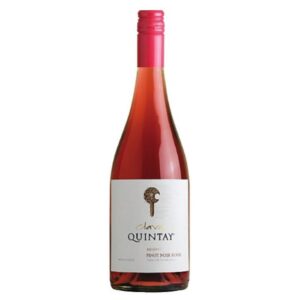 A Captivating Rosé for Every Occasion
In the realm of exceptional wines, Viña Quintay Pinot Noir Rosé 2013 stands tall, representing the epitome of elegance and craftsmanship. Its journey through flavors, from the inviting strawberries to the luscious plums and delicate spice hints, creates an unforgettable symphony of taste. With its impeccable balance and versatility, this wine is an impeccable choice, offering a sensory experience that will captivate wine enthusiasts and novices alike.
Prepare to be enchanted by Viña Quintay Pinot Noir Rosé 2013 and let its brilliance elevate your moments of celebration and indulgence. Cheers to the artistry of winemaking and the enchanting flavors that await within each bottle.