Unveiling the "Life Happens. Wine Helps." Laptop Sleeve: A Perfect Blend of Style and Protection
Are you searching for a laptop sleeve that not only safeguards your precious device but also adds a touch of elegance to your everyday life? Look no further! Introducing the remarkable "Life Happens. Wine Helps." Laptop Sleeve, designed exclusively for those who appreciate the finer things in life. Crafted with utmost care and attention to detail, this snug and lightweight laptop sleeve offers unparalleled protection while exuding an aura of sophistication. Let's delve into the captivating features that make this laptop sleeve a must-have accessory for wine mavens and tech enthusiasts alike.
The Perfect Guardian for Your Valuable Laptop
Unyielding Protection in Style
With the "Life Happens. Wine Helps." Laptop Sleeve, bid farewell to unsightly scratches and dents on your laptop's sleek exterior. This exceptional sleeve embraces your device snugly, thanks to its meticulously designed form. Constructed using high-quality neoprene, renowned for its durability, this laptop sleeve offers a defense against life's daily rigors. Whether you're commuting to work, strolling through campus, or simply relaxing at a coffee shop, rest assured that your laptop remains shielded in style.
Impeccable Interior: A Cozy Retreat for Your Device
Step into a world of luxury as you unzip the sleeve to reveal its interior. Lined entirely with sumptuous faux fur, this laptop sleeve provides a soft, velvety nest for your cherished device. Imagine the joy of sliding your laptop into this opulent haven, knowing it's embraced by a protective layer that ensures the utmost care and warmth. Say goodbye to those nerve-wracking moments when accidental bumps or minor mishaps might compromise your laptop's well-being.
Unmatched Practicality with an Exquisite Touch
Lightweight and Resistant: A Blend of Versatility and Durability
The "Life Happens. Wine Helps." Laptop Sleeve is a true embodiment of versatility. Despite its remarkable protective capabilities, it remains feather-light, allowing you to effortlessly carry your laptop wherever you go. Crafted with a special material that repels water, oil, and heat, this laptop sleeve guarantees that everyday spills and sudden weather changes won't leave a lasting mark. Embrace the freedom of mobility without compromising on style or the safety of your laptop.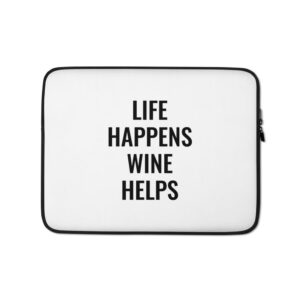 Easy Access and Enhanced Security
Picture this: a smooth, seamless glide as you open the top-loading zippered enclosure of the laptop sleeve, revealing your laptop eagerly awaiting its moment of glory. Equipped with two sliders, this zipper ensures easy access to your device, eliminating any hassle or frustration. Additionally, the padded zipper binding provides an extra layer of protection, reducing the risk of accidental scratches and securing your laptop firmly in place.
Elevate Your Laptop's Protection and Style with the "Life Happens. Wine Helps." Laptop Sleeve
In a world where laptops have become an extension of ourselves, safeguarding them in a sophisticated and reliable manner is paramount. The "Life Happens. Wine Helps." Laptop Sleeve not only fulfills this need but surpasses expectations with its impeccable design and thoughtful features. From its snug fit and faux fur interior lining to its lightweight yet durable composition, this laptop sleeve is the epitome of practicality and elegance.
So, why settle for anything less when you can indulge in the perfect blend of protection and style? Choose the "Life Happens. Wine Helps." Laptop Sleeve and embark on a journey where your laptop's safety and your fashion-forward sensibilities go hand in hand. Let this sleeve be a testament to your impeccable taste, while its exceptional functionality becomes an integral part of your daily routine. Embrace the essence of sophistication and give your laptop the love and care it deserves, one sip of wine at a time.