Discover the Captivating Essence of Sallier De La Tour La Monaca Syrah
Are you ready to embark on an enchanting journey through the world of wine? Allow us to introduce you to the exquisite Sallier De La Tour La Monaca Syrah 2018 750ml. With its rich history and irresistible flavors, this remarkable wine is sure to captivate your senses and leave a lasting impression. Join us as we delve into the depths of this Sicilian masterpiece and uncover the true essence of Sallier De La Tour La Monaca Syrah.
The Story Behind La Monaca Syrah
Unveiling a Treasured Legacy
Sallier De La Tour La Monaca Syrah stands as a testament to the winery's cherished heritage. Its name pays homage to the historical winery, and this particular vintage takes its roots from the oldest Syrah vineyard on the Estate. With each sip, you will experience the culmination of centuries of winemaking expertise, creating a wine that is steeped in tradition and artistry.
A Journey to the Jato Valley
As we explore the origins of Sallier De La Tour La Monaca Syrah, we find ourselves immersed in the picturesque landscapes of the Jato Valley in the DOC Monreale region. This captivating terroir provides the perfect conditions for cultivating Syrah grapes, allowing them to thrive and develop their distinct character. It is here that this remarkable variety finds its true home, boasting a unique expression that sets it apart.
Unveiling the Enigmatic Flavors
A Symphony of Sensations
As you uncork a bottle of Sallier De La Tour La Monaca Syrah 2018 750ml, an orchestra of flavors begins to play on your palate. The deep, black hues tantalize the eye, hinting at the richness that lies within. With each sip, you are greeted by an enchanting melody of balsamic and spicy notes, interwoven with a delightful Mediterranean crispness.
The Power of Syrah
Grape: Syrah
ABV: 15%
Volume: 750ML
The very essence of this wine is embodied by the noble Syrah grape. Known for its complexity and depth, Syrah has a long-standing reputation as a varietal that commands attention. Sallier De La Tour La Monaca Syrah embraces this legacy, delivering a wine that strikes the perfect balance between elegance and intensity. With an alcohol by volume (ABV) of 15%, it offers a harmonious blend of strength and finesse that will leave you craving another sip.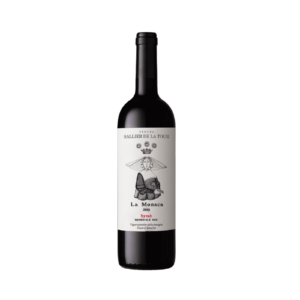 A Sensory Adventure
Indulging in Sallier De La Tour La Monaca Syrah is akin to embarking on a sensory adventure. With every glass, you are transported to the sun-drenched vineyards of Sicily, where the grapes bask in the warm Mediterranean climate. The wine embodies the terroir, allowing you to experience the essence of the land with each nuanced flavor. It's like capturing the very spirit of Sicily in a bottle.
Elevate Your Wine Experience with Sallier De La Tour La Monaca Syrah
In the realm of wine, few experiences rival the sheer delight of discovering a truly exceptional vintage. Sallier De La Tour La Monaca Syrah 2018 750ml is one such gem that will leave a lasting impression on your palate. From its historical roots to the meticulously cultivated Syrah grapes, this wine embodies the artistry and passion of the winemakers behind it.
Allow yourself to be whisked away by the deep, balsamic notes, the spice-laden symphony, and the Mediterranean crispness that define Sallier De La Tour La Monaca Syrah. Indulge in a sensory adventure that will transport you to the sun-kissed landscapes of Sicily, where every sip tells a story of tradition, beauty, and remarkable craftsmanship.
Make Sallier De La Tour La Monaca Syrah a part of your wine collection today, and let this enchanting vintage take you on an extraordinary journey through the world of fine wine.