Discover the Enchanting Flavors of Valsalado: Paisajes 2012
Indulge in the captivating allure of Paisajes – Valsalado 2012, a remarkable wine that embodies the essence of Rioja, Spain. With its harmonious blend of grape varieties, meticulous winemaking techniques, and distinguished aging process, this wine truly stands out as a treasure to be savored. Let us take you on a sensory journey through its compelling aromas, flavors, and elegant character, revealing why Paisajes – Valsalado 2012 has gained recognition among renowned establishments, including the prestigious El Bulli restaurant.
Valsalado 2012: A Symphony of Flavors
Unveiling the Aromas and Tastes
As you uncork a bottle of Paisajes – Valsalado 2012, an intoxicating fragrance fills the air. The ripe and jammy nose entices with notes of luscious strawberry preserve, intermingled with a delicate hint of spices. It sets the stage for what awaits on the palate—a delightful dance of flavors.
The first sip unravels layers of jammy goodness, but what truly surprises is the perfect balance struck between vibrant acidity and austere sharpness. This unique combination adds a refreshing twist to the rich jammy flavors, resulting in a wine that captivates the senses.
The Art of Winemaking
Paisajes – Valsalado 2012 is born from a meticulous winemaking process that ensures every sip is a masterpiece. The grapes, carefully hand-harvested in early October, undergo fermentation in stainless steel tanks at controlled temperatures. Daily remontages—a process of pumping the fermenting juice over the grape skins—further intensify the extraction of flavors for a period of 20 days.
The wine then matures for 16 months in new Allier French oak barrels, known for their exceptional quality and favored by esteemed wineries like D.R.C. and Leroy in Burgundy, France. Throughout the aging process, the wine undergoes three rackings, enhancing its complexity and refining its character.
Tasting Notes: A Journey of Sensations
Aroma and Palate
With every sip, Paisajes – Valsalado 2012 reveals its true essence. The nose, ripe and jammy, exudes an enticing fruity aroma, accompanied by subtle sweet spices that add an intriguing depth. Upon tasting, the palate follows suit, mirroring the enticing aromas with a velvety smoothness. Subtle hints of oak tantalize the senses, while the well-rounded tannins and graceful texture create a truly captivating experience.
Recognition by El Bulli
Paisajes – Valsalado 2012 is no stranger to accolades, earning a distinguished spot on the wine list of El Bulli—a world-renowned Spanish restaurant that held a prestigious three Michelin stars for five consecutive years. This designation speaks volumes about the exceptional quality and captivating appeal of Valsalado. With each sip, you savor the same wine that delighted the discerning palates of those who frequented this acclaimed gastronomic haven.
Food Pairing: Elevate Your Culinary Experience
To fully embrace the enchantment of Paisajes – Valsalado 2012, pair it with a culinary ensemble that complements its flavors. Slow-cooked meats, such as tender and succulent braised dishes, resonate harmoniously with the wine's depth and richness. Roasted duck breast, with its elegant flavors and velvety texture, becomes a divine companion to Valsalado, while grilled vegetables add a touch of freshness and vibrancy to the pairing.
Service Temperature: The Perfect Chill
To fully appreciate the symphony of flavors within Paisajes – Valsalado 2012, serve it at a temperature between 14 and 16°C. This allows the wine to showcase its intricate layers and ensures a sensory experience that will leave a lasting impression.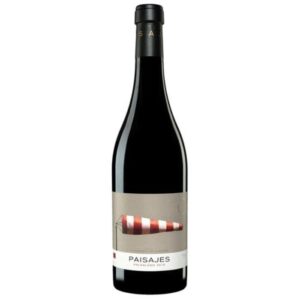 Unveil the Magic of Valsalado: Paisajes 2012
As you journey through the world of fine wines, Paisajes – Valsalado 2012 stands tall as an embodiment of excellence. With its ripe and jammy aromas, surprising acidity, and exquisite mouthfeel, this wine captivates the senses and paints a vivid portrait of the Rioja region's winemaking prowess.
Savor the flavors that have graced the tables of esteemed establishments like El Bulli, and let the enchantment of Paisajes – Valsalado 2012 transport you to a world of refined indulgence.
Paisajes – Valsalado 2012
Region 地區
Rioja, Spain 里奧哈, 西班牙 Soil 土壤 : Clay and gravel 粘土和礫石
Grape Variety 葡萄品種
40% Tempranillo, 40% Garnacha Tinta, 10% Graciano, 10% Mazuelo
40% 丹魄、40% 歌海娜、10%格拉西亞諾、10%馬士羅
Age of the vines 葡萄籐樹齡
59 – 62 years old 年
Wine Making 製造程序
Harvested by hand in the beginning of Oct, the grapes are fermented in stainless steel tank under controlled temperature and with daily remontages for 20 days.
Matured for 16 months in new Allier French oak barrels with 3 rackings.
在法國橡木桶中陳釀 16 個月
Francois Freres oak barrels used by the Finest French Wineries D.R.C. and Leroy
採用法國勃艮地最頂級酒莊 D.R.C.及 LEROY 御用的 Francois Freres 橡木桶
Tasting Notes 酒評
A very ripe, jammy nose with aromas of strawberry preserve and some spices. The palate follows the path indicated by the nose with jammy flavours, but a surprising acidity and austere, sharp mouth feel.
強烈的成熟果實特色,暗藏輕微的香料甜香。入口帶有微妙的木香,單寧適中,質感迷人,
酒體飽滿優雅。
*Selected as designated wine on the wine list of El Bulli, one the world´s
best Spanish restaurants of 3 stars Michelin for 5 consecutive years
*連續 5 年榮獲世界最佳餐廳 : 三星西班牙餐廳 El Bulli 首選為酒單上的指定用酒
Food Pairing 配襯食品
Slow cooked meat, roasted duck breast, grilled vegetables 燉肉,烤鴨胸,烤蔬菜
Service 飲用溫度
14 – 16°C